Gray and white kitchen cabinets can give a homeowner a lot of benefits since they're the kinds of cabinets that can contribute a lot to the improvement of a kitchen's overall looks.
For example, pairing gray and white cabinets can give a kitchen a fresh look. These cabinets are also very versatile.
It's worth mentioning that gray and white are the top two neutrals. They can make a perfect background for an accent color.
These two colors combine well with warm-toned woods or stone to create a natural look. If the aim is an elegant finish, these two colors can be combined with glass or metal.
Whatever look you'd like to create, gray and white will always oblige.
However, it's important to note that there are reasons why the two colors are better together. White indeed goes with virtually anything, but there's something special about the sophisticated look that gray and a crisp shade of white can make.
In addition, gray and white can work together to make a kitchen look bigger and brighter.
This is especially true when the shade of gray used is a light one. It's widely known that light colors can help make a space look bigger. It's because dark colors have tendencies to absorb light, thus, making a room look smaller.
Interested in incorporating gray and white cabinets into your kitchen?
We've got several such cabinets to draw inspiration from if you are. There are so many options to choose from, from classic white cabinetry combined with soft gray cabinets to a gray island cabinet paired with white glass-front wall cabinets. Enjoy.
1. When Classic White Wall Cabinetry Meets Soft Gray Island Cabinets in an L-shaped Transitional Kitchen
This transitional kitchen has classic white wall cabinets paired with soft gray cabinets that belong to a sophisticated island.
These cabinets are the focal points of the kitchen, which has the ability to turn into an open-air kitchen when needed.
The kitchen itself has quite a lot of cabinets. Some of the cabinets that might make many people wonder are the ones above the refrigerator. These cabinets are stainless because they're meant to match the effect of a stainless column.
Installed in an L-shaped kitchen, the cabinets in this kitchen help create an efficient workspace.
L-shaped kitchens are known to offer an efficient workspace and make it possible for cabinets and appliances to be installed along appropriately angled walls with the existence of an open area in the center of the space.
The kitchen island with soft gray cabinets is in the center.
The arrangement of the island and wall cabinets makes it possible to provide the homeowners with maximum cooking flexibility.
The way the white wall cabinets are neatly fit into the walls and the corner significantly helps make it a reality.
In short, what a fabulous addition to the kitchen these cabinets are.
2. Traditional Elegance is Born When White Recessed-panel Cabinets Combine with Glass-front Wall Cabinetry and a Gray Island
Such an elegant space this gray and white kitchen is.
This traditional kitchen exudes traditional elegance that definitely improves the quality of its interior in so many ways. It's majorly thanks to the gray and white cabinets used in it.
This large classic kitchen has cabinetry with Greenfield door style, which looks fantastic.
White recessed-panel cabinets are the main characters in this kitchen with a 3" oak floor.
These cabinets usually have doors with center panels that are slightly lower than the door frames surrounding them. Cabinet doors like these often use thinner wood than the other kinds of cabinet doors, but they also offer benefits.
Recessed-panel cabinets are desired by many homeowners because they usually have smooth, clean looks.
Of course, the simply gray cabinet that defines the kitchen island is also an eye-catcher. Coming with a granite countertop, the cabinet hogs almost all the attention.
The gray and white cabinets in this kitchen also go well with the kitchen's dark wood floor. The combination defines the space's traditionally elegant look.
Without a doubt, these cabinets are ones every homeowner who loves traditional kitchens more than anything should try to draw inspiration from.
3. The Presence of Floor to Ceiling White Cabinetry Has an Intense Aura in a Kitchen with a Dark Gray Island Cabinet and Wall Mounted Cabinets
This remodeled kitchen is the home to the majestic floor to ceiling cabinetry that has a strong aura in the room.
The original kitchen was relatively small because the layout made it so. Using the kitchen's height was one of the keys to improving the space, and thus, the kitchen now has that bright floor to ceiling cabinet.
There are benefits of having a floor to ceiling cabinet.
A floor to ceiling cabinet opens up space, so more natural light flows through, and the kitchen looks brighter and lighter.
A cabinet like this also doesn't have an upper cabinet that casts shadows, so it's easier to work in the kitchen because everything is way more visible now.
It's also widely known that floor to ceiling cabinets look very aesthetic.
Still, let's not forget about that dark gray island cabinet, which also looks fantastic. With a Caesarstone Piatra Grey perimeter counter and a Bianco Antico granite island as companions, the dark gray cabinet sure is lucky to have such gorgeous partners.
The dark gray island cabinet creates a lovely contrast with the white cabinets used in the kitchen.
The fact that they contrast against each other allows them to highlight their colors. Everything just works in this beautifully remodeled kitchen.
4. Gray Floor to Ceiling Cabinets and Glass-front Cabinetry in White are Perfect for a Well-lit Kitchen with a Big Window
Natural light is undeniably important for a kitchen because it's a space where people need to work with high levels of precision and efficiency.
This kitchen designer knew that, so they incorporated a big window into the kitchen's design. It helps that they also use cabinets that make the room look even brighter.
The cabinets in question include gray floor to ceiling cabinets. These cabinets are pre-fab, and they're not alone in the kitchen, which has a brown dark wood floor.
After all, the kitchen has white glass-front cabinetry that helps turn it into a perfectly well-lit kitchen as well.
Do you wonder why glass-front cabinets are so suitable for a kitchen?
Well, the glass on these cabinets reflects light and brightens up the kitchen they're used in.
Placing glass-front cabinets at a position close to the window can also give a kitchen twice the amount of light it would get if the glass-front cabinets weren't there.
Glass-front cabinets also serve decorative purposes. After all, they can showcase lots of things that look good when put in a glass box. In glass-front cabinets, things that look good include dishes, mugs, bowls, containers full of beans, or even jugs.
This kitchen is so lucky to have floor-to-ceiling and glass-front cabinets.
5. Warmth and Coziness are Guaranteed in a Kitchen with White Flat-panel Wall Cabinetry and Long Gray Cabinets Below
This Scandinavian kitchen offers warmth and coziness as it has a bamboo floor that makes it look warm and cozy.
The kitchen has white flat-panel cabinetry on the wall and a long range of gray cabinets under the countertops. The combo of gray and white cabinets and a brown floor work perfectly in this kitchen.
There are three cabinet colors in this Scandinavian kitchen.
The first one is white, which exists on the upper cabinet. The second one is ash gray, which is used to paint the base cabinets. Then you have magnificent olive that's used on the peninsula. All three complement each other very well in this kitchen.
If you'd like to use flat-panel cabinets like the white ones used in this kitchen, you should know that there are benefits that you can get from using them.
First of all, they're easy to assemble. They're also convenient to transport so you won't have to worry too much when you move.
Flat-panel cabinets are also cost-effective, but they are high-quality cabinets despite this. They're solid, and on top of that, most of them come under warranty. There are custom options to choose from when buying these cabinets is a plus, too.
They're some of the most excellent choices of kitchen cabinets.
6. A Clean and Crisp Look is Born When White Shaker Cabinets Meet a Sherwin Williams Web Gray Cabinet and a Blue Glass Tile Backsplash
This remodeled kitchen looks so clean and crisp, thanks to the white and gray cabinets used in it.
The cabinets include white shaker cabinets that come in wall-mounted cabinets and floor to ceiling cabinets. It's noteworthy that the kitchen has glass-front wall cabinets, too.
In this kitchen, you can also find a cabinet painted in Sherwin Williams' Web Gray.
The white and gray cabinets used in this kitchen are combined with a blue glass tile backsplash. The backsplash color is Icelandic Blue, and since blue goes well with white and gray, the combination creates a very appealing look.
Interested in copying the looks of the white cabinets on the perimeter?
Well, you can try painting your cabinets using Benjamin Moore's Super White paint. If you want to use shaker cabinets like those in this kitchen, know that you'll benefit from using them. For starters, they offer a timeless look, which is fantastic.
Shaker cabinets also don't require continuous maintenance. They're budget-friendly cabinets that, fortunately, are widely available.
The fact that they're classic American design style cabinets makes them iconic cabinets, as well. They're also effortless to clean.
7. Combining a Gray Island Cabinet with Open Shelves and Pure White Glass-front Wall Cabinets is an Effective Trick to Improve the Looks of a Beach Style Kitchen
The beautifully remodeled kitchen is a beach-style kitchen with a gray island cabinet and pure white glass-front wall cabinets.
The gray island cabinet comes with a number of open shelves painted in white. These shelves make the cabinet look attractive in addition to offering functional benefits.
The gray island cabinet with open shelves used in this u-shaped kitchen has a white quartz countertop and Calcutta marble sides. The paint color used to paint it is Benjamin Moore's Graphite.
This cabinet combines with white glass-front cabinets mounted on a wall to improve the kitchen's looks.
In addition to the graphite island cabinet and the white glass-front cabinets, some white cabinets are not glass-front units as well in this kitchen.
These gray and white cabinets suit the theme of the house really well. The house is a beach house, and these cabinets fit perfectly into the design.
Gray furniture pieces are among the ones most seen in coastal rooms.
Everyone knows the coastal style tries to emulate the relaxing environment of a beach, and this house is a beach house. Also, because white is one of the traditional coastal colors, these gray and white cabinets are undeniably perfect for this kitchen.
8. The Combo of White Cabinets in Varying Sizes and a Gray Island Cabinet Suits a Kitchen with a Dark Wood Floor Very Well
Almost no one would say that this kitchen looks bad because it doesn't. It looks fantastic with its white cabinets in varying sizes and a gray island that combines naturally to enhance the kitchen's overall appearance.
The white cabinets are on the walls, while the gray cabinet sits calmly as part of the kitchen island.
Combined with a white backsplash, these cabinets make the kitchen they're in look brighter and more spacious.
The white backsplash isn't the only thing that combines with the cabinet to enhance the kitchen's appearance. There's also a very dark wood floor that's always ready to join in the fun.
The white and gray cabinets are natural partners to the dark wood floor.
After all, brown and gray can become a perfect pairing, being two colors often together in nature. Additionally, they also work well with numerous other colors. They also get along with the majestic non-color that is white.
The white and gray cabinets and the dark floor sure go extremely well with each other, but there's more than that.
While white and gray make the kitchen look brighter, the dark wood floor brings a warm aura into the space. Thanks to them, this kitchen now holds the title of a bright, spacious, and warm kitchen.
9. Luxury is Brought into a Kitchen When White and Gray Cabinets are Supported by Gray Walls Throughout and Accents of Shiny Brown Coming from a Hardwood Floor and Wooden Furniture Pieces
This kitchen with a beautiful shiny floor has white and gray cabinets surrounded by gray walls throughout.
The cabinets include white wall-mounted glass-front cabinets, white cabinets on the perimeter, and a gray cabinet that's part of a huge kitchen island, which has a Super White Quartzite countertop.
The gray island cabinet has a black brushed glaze that makes it look more appealing. The island it's part with has plenty of storage.
There's a prep sink and a lot of seating as well. It's very close to the beautiful shiny floor. The floor has a custom stain blend, which gives it an attractive look.
Shiny wooden furniture pieces are accentuated by white cabinets on the perimeter, the gray island cabinet, and the gray walls.
Similar to the floor, these furniture pieces are shiny. Put in a bright kitchen with white and gray cabinets, these shiny things stand out and help give the kitchen a luxurious look.
The cabinets themselves make the luxurious kitchen look really bright, and they even get some reinforcement in doing so.
After all, the kitchen has a huge window near the dining area and smaller windows near the white cabinets. Such a bright and luxurious kitchen these white and gray cabinets find themselves in.
10. What a Range of White Wall Cabinets and a Super Dark Island Shaker Cabinet Offers in a Kitchen with a Gray Backsplash is Beauty in Simplicity
This kitchen looks fantastic with contrasting white wall cabinets and a super dark island shaker cabinet despite being relatively simple.
The kitchen is blessed to have cabinetry that uses the Bridgeport door style colored in white. The island in this kitchen is finished in a finish dubbed Peppercorn.
The cabinets were painted using paint meant for industrial use. The designer suggested using Sherwin Williams' paint to imitate the color used in the cabinets.
Speaking of the cabinets, the contrast between the white wall cabinets and the super dark island cabinet makes the kitchen very interesting.
Why does the contrast work?
Well, it's said that dark gray works best when paired with a contrasting color like bright gray or white.
The super dark gray island cabinet and the white wall cabinets create tension between their opposite colors in this kitchen. The tension is pleasant, and it helps improve the kitchen's looks.
Since it's widely known that contrast help things look different and get more attention, the contrasting white and gray cabinets used in this kitchen help highlight each other's beauty.
Due to their contrasting color, people pay more attention to them. As a result, they become focal points in the kitchen. Nice!
11. An Overwhelming Army of Dark Gray Cabinets Should be Put Together in a Specific Area While More Underwhelming White Cabinets are Spread All Over the Place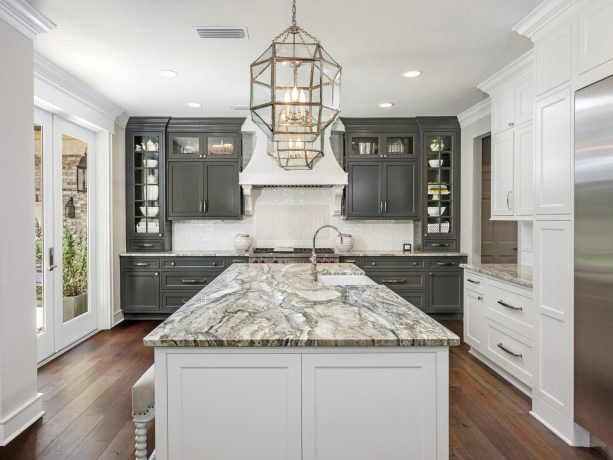 One of the ways to pair two colors in the same area is by separating the two colors from each other.
This kitchen does so when it combines gray and white by using gray and cabinets as storage units. The gray cabinets have their own block, whereas the white cabinets also give their own territories.
The gray cabinets are painted in a custom color, and they're the ones that have the honor to be together with the stove in this kitchen. The gray cabinetry consists of wall-mounted gray glass-front cabinets and gray base cabinets under a quartzite countertop.
The white cabinets have more territories than these gray cabinets.
The white cabinets in this kitchen include white wall-mounted cabinets, a floor to ceiling cabinets in white, and an island cabinet. The island cabinet is also paired with a quartzite countertop.
It's worth mentioning that the arrangement of the cabinets in this kitchen wasn't done in a nonchalant way.
For instance, the tall pantry cabinet used in this kitchen was designed to open to reveal storage for the kitchen's small appliances. The bottom part of the cabinet was perfectly customized to allow kids access to an under-stair playing area.
The cabinets in this kitchen were arranged to give the homeowners the most benefits.
12. Large White Cabinetry and a Dura Supreme Zinc Gray Island Cabinet in a Farmhouse Kitchen Can Benefit from the Addition of Black Pendants to the Mix
This space is a custom chef's kitchen, and it looks stunning with large white cabinetry and a gray island cabinet.
The island cabinet was painted using Dura Supreme Zinc paint. It's a charming paint color because it makes the island cabinet look clean and smooth.
While the island cabinet is painted in gray, the other cabinets in this farmhouse kitchen are painted in white.
The white cabinets come in the form of white wall mounted corner kitchen cabinets, regular wall-mounted cabinets, and a large wall cabinet in white. White base cabinets can also be found in this kitchen.
The cabinets in this kitchen combine with a subway tile backsplash and marble countertops to give the kitchen its stunning look.
The overall white and gray color scheme is also accentuated by black pendants hanging above the kitchen island. These pendants are perfect additions to the kitchen.
White and gray go well with black. Actually, it's a blend of black and white that gives birth to gray, and that's why the three colors look so natural together.
It's a versatile color combination that provides any kitchen with a sophisticated look. It works best in contemporary kitchens, but it turns out it suits a farmhouse one as well.
13. Sophisticated Looks are Easy to Achieve When You Have Gray and White Shaker Cabinets and a Multicolored Backsplash in the Same Kitchen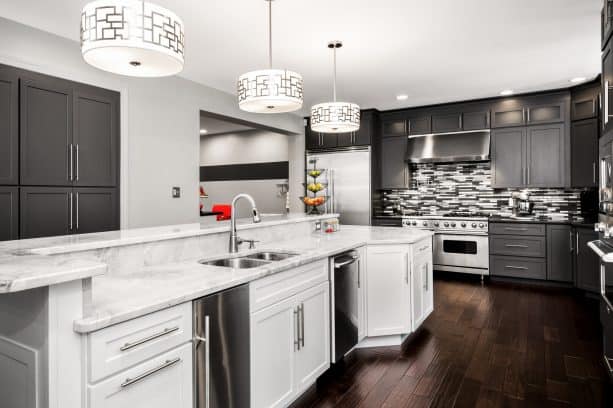 There's something about this kitchen that many other kitchens don't have. It's the way colors are being used in this kitchen.
The colors in this kitchen come from many objects, including gray and white shaker cabinets. The gray cabinets can be found on the perimeter.
The gray cabinets come in the form of wall-mounted cabinets and base cabinets under a dark countertop.
The shade of gray used to paint the wall, and base cabinets are completely the same. It's quite dark, and it's balanced by the white cabinets at another spot in the kitchen.
While the gray cabinets associate themselves with the stove, the white cabinets associate with the kitchen island.
There are no white wall shelves in sight, so the gray cabinets are dominant in this large kitchen. The cabinets are befriended by a unique glass tile backsplash.
One of the most appealing things about the glass tile backsplash is the fact that it's multicolored. The colors include shades of gray and white. It perfectly suits the gray and white cabinets.
On the other hand, it helps the gray cabinets get more attention since the cabinets become more visible thanks to the backsplash.
14. Super Sleek Gray and White Cabinets in a Contemporary Kitchen That Has Brilliantly Popping Modern Chairs with Orange Backs
Look at how sleek this kitchen is. Thanks to the super sleek gray and white cabinets used in it.
The gray cabinets are more dominant since they take up more space than the white cabinets. You can find them both on the kitchen island and on the perimeter. There's even a huge floor to ceiling gray cabinet in this kitchen.
On the other hand, the white cabinets can only be seen on the walls.
However, the gray cabinets' dominance isn't absolute. It's not that there are so many more of them compared to the white cabinets. Also, the cabinets in both colors look sleek and modern, suiting the contemporary kitchen well.
The flat-panel cabinets used in this kitchen combine with a mosaic tile backsplash to beautify the kitchen. The combination works since mosaic tile backsplashes look good alongside virtually anything gray and white.
The backsplash isn't the only thing that gets the privilege to be together with the cabinets.
This kitchen also has chairs with orange backs that brilliantly pop in them. The orange pigment sets an appealing contrast to the sleek and clean gray and white cabinets. It allows the chairs to stand out without seeking too much attention.
The chairs accentuate the cabinets just enough to make the combination work.
15. A Beautiful Set of Massive White and Gray Cabinetry in a Two-window Georgian Kitchen is Accentuated by Copper Dining Chairs
Imagine what two windows can do if one window can bring so much natural light into a kitchen.
This Georgian kitchen has the privilege to find out they can give to its homeowners. The windows can bring in a tremendous amount of natural light, and the light-colored cabinets in the kitchen help make the task a success.
The cabinets in this kitchen include a massive set of cabinets in white, which takes up a large space on the perimeter.
The cabinets are very tall and wide, with a number of glass-front cabinets on top. The list of cabinets in this kitchen also includes a large gray cabinet on the kitchen island.
The gray island cabinet has a white countertop on it, accompanied by copper dining chairs. The dining chairs accentuate the white and gray kitchen really well. In addition, they also embody one of the main principles of Georgian kitchen designs.
It's widely known that Georgian kitchens subtly merge cooking and dining areas. This is what happens in this kitchen.
The addition of the copper chairs not only accentuates the colors of the cabinets but also helps the kitchen stay true to its principle. The white and gray cabinets benefit from the existence of these chairs.
16. Good Things Happen When Gray and White Cabinets Meet Teal Accents in a Kitchen That Bridges the Gap Between the Traditional and Contemporary Styles
The remodeling of this kitchen gave it gray and white cabinets that give it a very contemporary look. However, the kitchen still doesn't throw away aspects that make it look traditional. It now becomes a kitchen that connects traditional and contemporary styles.
The gray cabinets used in this kitchen come in wall-mounted cabinets and base cabinets with white countertops. The shade of gray used to paint the cabinets is quite dark. As a result, it creates strong contrast with the white cabinet.
The white cabinet comes in a small but very tall cabinet. It isn't given too large a space, but it has a strong presence in the kitchen.
A teal jar and a teal bottle accentuated the gray and white cabinets. They're highly visible in this kitchen, and there are reasons why they work well with the cabinets.
Teal works very well with gray, and if there was a strong spark of yellow in this kitchen, the combination would be perfect. Teal is also a natural pair for white since the two colors are dubbed a serene pairing that never goes wrong.
The combination of gray, white, and teal in this kitchen works on many levels.
17. The Brightness That Dura Supreme Storm Gray Island Cabinet and White Wall Cabinets Accentuated by Yellow Pops Create Blinds the Beholders in a Very Pleasant Way
This u-shaped kitchen is unquestionably very bright, and it's thanks to the majority of things incorporated into its design.
First of all, the kitchen has a window that effectively brings in light. However, it doesn't work alone. Don't forget those white cabinets mounted to the kitchen's walls.
The white cabinets used in this kitchen, painted using Dura Supreme White paint, also include a glass-front cabinet and base cabinets with a Silestone Quartz in Cemento Suede countertop with a matte finish. It helps that the cabinets get support from a white subway tile backsplash with medium gray grout.
Sitting in the center of the kitchen is a gray island cabinet with a Silestone Quartz in Promenade countertop, also with a matte finish. This cabinet was painted using a paint product called Storm Gray from Dura Supreme.
The colors of the cabinets are accentuated by the color of the floating shelves on one of the walls.
The white and gray cabinets are accentuated by beautiful pops of yellow in this kitchen. Sure, this kitchen blinds you because it's very bright, but with these yellow pops around, it'll surely pleasantly blind you. Beautiful!
18. A Stunning Look That Represents the Beach Style is a Guarantee When Gray and White Inset Cabinets are Combined with a Strong Blue Stove and Exhaust
A harmonious combination of colors can easily be seen in this kitchen, which has gray and white inset cabinets.
The cabinets play significant roles in beautifying this mid-sized coastal wood floor kitchen. The cabinets include white wall-mounted glass-front and base cabinets in both white and gray.
There's also that cool gray island cabinet that comes with bookshelves. The owners of the kitchen can now read while doing activities in the kitchen.
A white subway tile backsplash is also present in the kitchen. It matches the white and gray cabinets, being in the same color as one.
All of the white cabinets in this kitchen were painted using Benjamin Moore's White Dove, including the trims. It's a beautiful color but probably not the one that grabs the most attention in this kitchen.
Just look at that blue stove and that blue exhaust, and you'll understand why.
One of the reasons why the strong blue color works well in this white and gray kitchen is that the rich blue comes out when paired with gray and white cabinets. Additionally, it does so without making the kitchen feel dark.
Together, the three colors give the kitchen a stunning look that represents the beach style.
19. You'll Be Able to Create an Otherworldly Striking Kitchen by Combining Gray and White Cabinets and a Bright Red Freezer
Although being a bit small in size, this kitchen doesn't fail to create a big visual impact.
It combines colors in a way that will guarantee it a striking look. It has a large wall-mounted glass-front cabinet in white, which stands out due to its massive size. This wall-mounted cabinet has open shelves on it.
The large white cabinet is paired with a set of dark gray base cabinets with white countertops, creating a pleasant contrast.
The white and gray cabinets are combined with a light gray subway tile backsplash. The combination looks so pleasant to the eyes.
The arrangement of the shaker cabinets used in this small kitchen is undeniably excellent as it makes the kitchen look stunning.
Who would have thought that one can still do something to make the kitchen look even better?
One has got to thank that bright red freezer because it makes the kitchen look otherworldly striking.
How can combining white and gray cabinets with a red freezer make so much impact?
Well. Red is an incredibly vibrant color, and when it gets paired with white and gray, the combination creates a very dramatic impact. No wonder this kitchen looks so wonderful.
Closing
Gray and white are two colors that work well together. That's why gray and white cabinets can be combined to create a beautiful kitchen. It's a good thing that the two colors can also be combined with other colors such as teal, red, blue, black, and more.
You can do many things if you want to incorporate gray and white cabinets into your kitchen. Here we've provided you with examples of how gray and white cabinets are used to improve the looks of kitchens.
Hopefully, you found some that inspired you to create your own exciting gray and white kitchen.