Since the purpose of an accent wall is almost exclusively to draw attention to a spot in a room, using two instead of just one such wall can actually double the benefit.
It will make the spot the wall is on more eye-catching, drawing more attention to it as a result.
Building two accent walls can also increase the excitement of decorating the wall. This is not to mention the fact that two such walls can give more decorative flair to a room, too.
If you plan to design a pair of accent walls in your room, it's important to do it right.
Note these things to ensure you never bottle creating an adorable pair of accent walls that can make your room a lot more attractive.
a. Consider Texture
When designing a pair of walls that are supposed to function as attention grabbers, it's important to consider combining colors and textures instead of pairing certain colors with other colors.
For example, you can combine an accent wall painted in blue with one built using bricks for a more variative and exciting look.
b. Consider the Colors of the Main Walls
It goes without saying that you should consider your main walls' color when designing an accent wall. Make sure that the colors are good pairs of each other. Using a different shade of the main wall's color is a good idea to try.
c. Try Using Wallpaper
Don't just limit yourself to using paint colors and materials that provide eye-pleasing textures when creating an accent wall. It won't hurt to use wallpaper.
Wallpaper can give lovely decorative patterns that would be harder and more time-consuming to add to a wall via other means.
d. Go for Two Accent Walls in a Neutral Room
It's especially better to build a pair of decorative walls in a neutral room. This way, more attention will go to the accent wall.
The room will have an effective focal point, and the purpose of the wall will be met easily.
e. There's No Need to Shy Away from Using Bold Colors
Using bold colors on accent walls isn't a bad idea at all. It's especially so if you combine a wall in a bold color with one in a much lighter color.
The mere contrast will easily grab the attention of many, and there's more to it than the contrast when you creatively combine your bold colors with ones that really pair well with them.
Listed below are a number of two accent walls we've selected for you if you happen to be in need of some inspiration for designing your accent walls. Enjoy your read.
1. Admonter Wooden Walls Sandwiching a Benjamin Moore Nightfall One to Form a Gorgeous Two-accent Wall
The Admonter wooden walls in this contemporary bedroom have a great affinity with the black wood floor, which is made of the same type of material.
It doesn't have any problems being the room's focal point with the main white walls since its light brown color provides quite a pop in it.
Sandwiched by the Admonter walls is a dark grey accent wall painted using Benjamin Moore's nightfall, which provides a nice contrast against the wooden walls.
The contrast is pleasant because brown and grey are a natural pair, being one of the perfect pairings nature has to offer.
The blended warmth and cool tones of the Admonter and Benjamin Moore walls make the combination incredibly gorgeous.
The warmth exuded by the light brown Admonter walls is balanced out by the cool aura of the Nightfall wall, making it possible to prevent overwhelming amounts of warmth or coolness in the room.
The cool tone of the gray wall pairs well with the warm tone of the wooden wall to create a subtly sophisticated look in the bedroom.
It's obvious that in the case of this bedroom, the combination of brown and grey is as gorgeous, balanced, and eye-pleasing as that found in the open in nature.
2. Two Organic and Modern Cedar Nickel Gap Accent Walls in Brown and White
Kids will find a room like this a pleasant one to spend time having a lot of fun in.
The fact that the room is not boring in the slightest plays a major part in ensuring this. It's all thanks to the two accent walls that elevate the room's aesthetics to new heights.
The accent walls make the gender-neutral kids' room with a gray floor unique because the room now has an organic and modern look at the same time.
The cedar nickel gap accent walls make it possible since the bigger brown wall has the organic look of natural wood, whereas the smaller walls painted in white add a modern look to the room.
The accent walls provide a clean contrast that works well in the large mountain style. It makes it a lot better that the wall painted in white has built-in shelves as well, providing additional storage that further highlights the modern appearance of the spots painted in white in the room.
The organic and modern accent walls go well with the grey main walls. White and grey are popular because together, they can be adapted to effectively suit any room. On the other hand, the collaboration between brown and grey is as natural as it can get.
These three make a great trio that easily makes any room look cool and enchanting.
3. Two Accent Walls Consist of a Combined Red Wall and a Stacked Stone One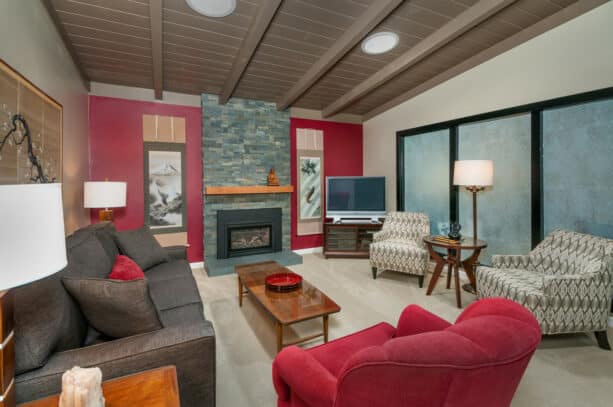 Combining paint and texture to create a pair of accent walls enables you to create a look that never gets boring.
In this Asian-inspired living room, the accent wall in the background appears to be painted in cherry red, whereas the one in front comprises stacked stones.
The stacked stone accent wall in front is majorly a darker shade of grey in color, making it work really well with the cherry red paint.
After all, grey is one of the best pairs of cherry red, along with beige, which is the color of the main walls in this living room.
The combination of red paint and the stacked stones give the space a classic and sophisticated look.
They complement one another flawlessly, the stacked stone being one that allows the red paint to come alive while enjoying some spotlights provided by the flashy red background in return.
Surrounded by beige main walls, the accent walls really give a punch of colors to the living room. It's inevitable since cherry red and a dark shade of grey pop quite easily when put against a very light color like beige.
They really accomplish their duty to become the feature walls of the space.
4. A Pratt & Lambert Koala Brown Wall Combined with a Stone Veneer One Makes a Warm-toned Two Accent Walls
When built right, two accent walls with warm tones will work fine in any room, and this 14.5′ x 13.5′ transitional living room can prove it for you.
The room is definitely a warm-toned one with an accent wall painted using Pratt & Lambert's Koala brown paint at the back and a stone veneer product from Norstone in front.
The warm colors of the accent walls combine with reclaimed wood shelving and Room & Board's grey cotton velvet sofa, a driftwood coffee table, and more to create a comfy atmosphere in the living space.
It's adorable how the warm colors of the accent wall resonate perfectly with the wood floor down below.
The warm colors on the accent walls and wood floor are balanced by the crisp white color of the main walls and ceiling.
The contrast is really smooth and put against pure white main walls; there's no way the accent walls won't stand out in the room.
The pairing of brown and white in this living room give the space a formal feel without making the room too overwhelming to stay in.
Each color is used just enough to turn the living room into one that is so relaxing to spend time in despite having a quite formal ambiance.
5. Two Accent Walls as a Vessel of Transitional Beauty of Brick and Dark Aqua Paint
The dark aqua paint used to paint this living room's accent wall is actually a one-of-a-kind mixture of paint colors created by combining Benjamin Moore products.
The brick wall accent in front combines majestically well with the dark aqua one behind because their colors superbly suit each other.
The reason why the dark aqua wall and the brick one suit one another is related to the fact that blue and brown are almost always closely associated with each other, even in nature.
The sand on the beach ends the sea's blue water is a prime example of the affinity between these two colors, whose combination works so well in this room.
These accent walls are really a vessel of transitional beauty.
The eye-catching brick accent wall sports a quite traditional look, whereas the dark aqua wall with a wall TV provides a contrast against its traditional identity. The resulting effect is one that gives the living room both a homey and relaxing atmosphere.
The beige main walls and white ceiling make it a lot easier for the accent walls to be distinct and attract attention.
Luckily, the distinct look of the accent walls is nothing short of enchanting, one that really becomes the focal point of the space and improves its look to great extents.
6. Two Stacked Stone and Wood Accent Walls Bring Life to a White Living Room
A stacked stone on one side, a wooden one on another, these two walls form one of the most unique pairs of accent walls there are.
The stacked stone wall was built using stacked stones with varying shapes from Daltie, the use of which gives a solid character to the accent wall.
On the other hand, the wooden accent wall is the exact opposite of the stacked stone one.
Its color contrasts heavily against the stone one, and while the stone wall has a more chaotic organization of stones, it represents order, consisting of wooden planks in uniform shapes and colors.
Despite the fact that they contrast against each other, these two walls have something in common: they bring life to the living room. The mid-sized open concept living room is almost devoid of color should the accent walls not be there.
The accent walls bring life to the living room in two ways.
The first is by adding color and texture to the white and smooth room.
The second is by representing two things that can be found in nature, stone and wood, that help makes the living room brim with life, becoming a space where one can easily spend time and feel alive.
7. Two Side Wood Plank Accent Walls with Built-in Floating Cabinets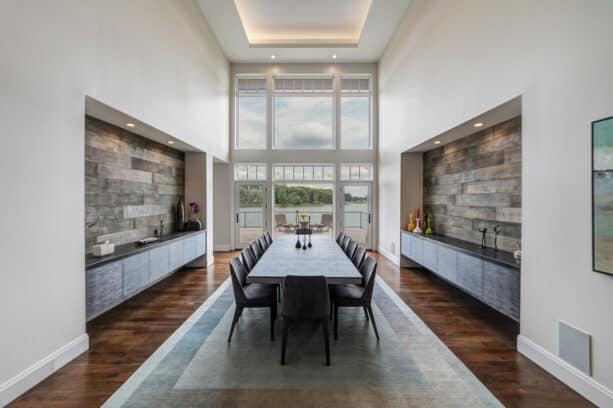 It's a nice feeling to see two accent walls mirroring each other in a room.
This kitchen/dining room with a dark brown wood floor can give you this exact feeling.
A twenty-foot wall of windows connects this dining room with a lake with breathtaking views and brings enough natural light to showcase the beauty of the two-side wood plank accent walls.
Despite being built using wood planks, the twin accent walls don't offer the warm colors of wood. Instead, they are rather greyish in color, creating a cool effect that happens to also bring elegance into the super large dining room.
The built-in floating cabinets become parts of the twin accent walls and, like the rest of the room, help form a perfectly symmetrical space.
The arrangement of the dining table, chairs, and carpet in the room tell that the space loves order, with the twin accent walls partially becoming its frames.
The greyish twin walls combine nicely with the white walls and soaring ceiling, which has a stepped edge with LED strip lighting providing ambient light to elegantly accent the space below.
The combo of grey and white is really versatile, and it suits this room, with the white becoming a backdrop that brings forth the charm of the grey.
8. A Glass Bead Accent Wall Meets a Venetian Plaster One to Prettify a Beach-style Living Room
With a surface layer that needs to be applied using a special technique, the glass bead accent wall in this beach-style living room adds both color and texture to the room.
Dark grey in color, it's an exceptional accent wall that looks and feels different from the walls and ceiling painted in a light color surrounding it.
A Venetian plaster wall is paired with the glass bead accent wall, which adds more texture to the room.
The stone look of this accent wall gives a character to the area, and the way it's paired with the glass bead wall behind it is really a creative one.
The TV mounted on top of the Venetian plaster wall has LED lighting, which lights the glass bead wall to give it a nice, partly illuminated appearance.
Venetian plasters are excellent options for accent walls because they're long-lasting and extremely durable. Their versatility is a plus point as well.
Environmentally friendly, odorless, low-maintenance, and highly customizable, Venetian veneer is among the safest choice of materials for an accent wall.
Combine that with the beauty of glass beads, and you'll have a combo that can prettify virtually any living room.
These simple yet appealing accent walls are proof of this.
9. A Green Media Wall in Front of a Purple One Creates a Harmonious Combo of Two Accent Walls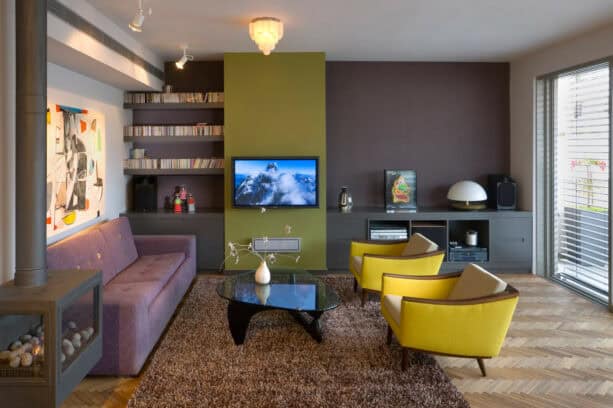 Luxury and mystery are two of the things that the purple accent wall with wall-mounted bookshelves in this contemporary living room represents.
The accent wall isn't a cheery one, but it's definitely not a depressing one either. Class is what it oozes, and it gets a pair that really complements it in all of itself.
The green media wall that protrudes in the middle of the purple wall's territory makes a really fitting addition to the room.
After all, purple and green are two colors that go together in fantastic harmony. While purple oozes class and luxury, green brings life into the room.
Evoking a sense of abundance and creating a feeling of refreshment and rest, the green wall is everything the purple wall isn't.
Interestingly, their vastly different nature is what makes them so compatible with each other. This is why they create such a harmonious combo that doesn't fail in the slightest to beautify the living room.
It helps that the main walls are painted in a lighter shade of grey.
This way, the purple and green accent walls don't need to do much to get noticed and accomplish their duty as feature walls that are supposed to draw a lot of attention in the dimly illuminated living space.
10. When Two Accent Walls Made of Grey and Gold Tiles Combine and Beautify a Transitional Bathroom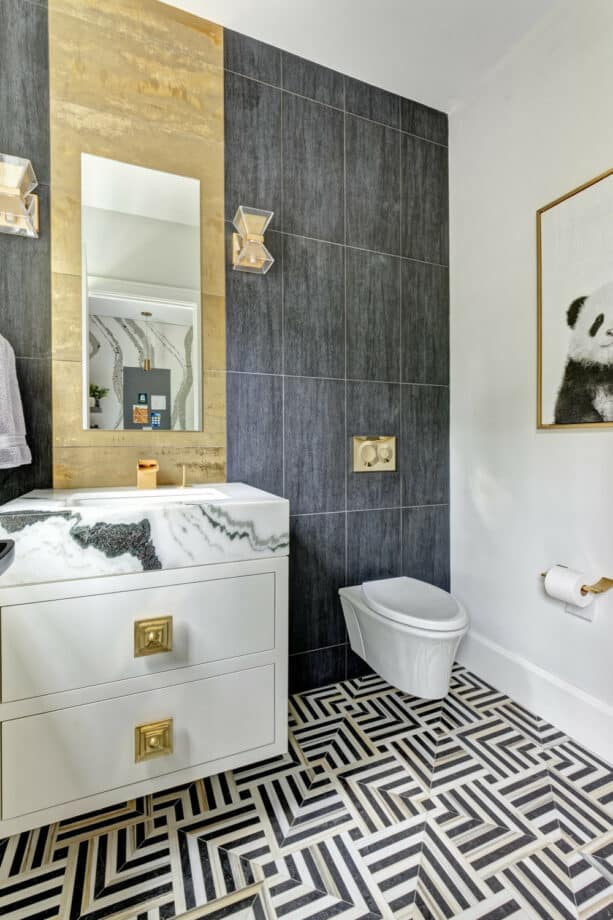 Sometimes you don't need to do much to create a stunning pair of accent walls.
This bathroom can show you that using a simple combination of grey and gold tiles to create two accent walls can be a really effective way to beautify a transitional bathroom, making it look captivating.
With a wall-mounted toilet and furniture-like cabinets with a marble countertop, the bathroom is a transitional space through and through, having stuff that combines form and function in it.
The accent walls make it super easy for the bathroom to look mesmerizing since the combination of grey and gold they bring never looks dull.
Thanks to the grey and gold accent walls, the bathroom turns into a classy-looking space that has a serene and restful atmosphere. The walls give the bathroom a glamorous vibe that has a bit of whimsy in them.
It's a combination that could easily turn any bathroom into one that never fails to captivate the eyes.
Despite being used in moderation, the color grey and gold used in this bathroom make the space look rich. This is not just an average combination since grey exudes elegance and glass, whereas gold exudes luxury and richness.
The phrase less is more fits the description of the effect these two colors create.
11. Multicolored Mosaic Tiles Add Sparks to a Two-accent Wall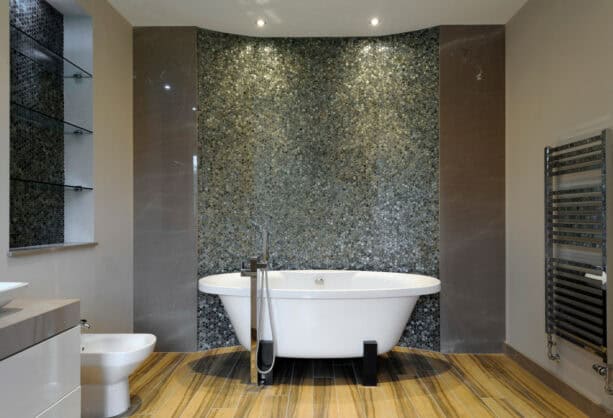 Constituting two grey walls sandwiching a curving wall of multicolored mosaic tiles, this two-accent wall is doubtlessly a fascinating feature wall to look at.
The mosaic tiles certainly add sparks to the wall, as do mosaic tiles in general, and make it look classier and more luxurious.
When lit by the ceiling lights, the mosaic tile accent wall reflects the light to show a glittering surface that surely captivates the eyes.
The less glittery grey walls on both sides act as some kind of frame that showcases the beauty that the mosaic tiles display as light touches their surfaces.
Put against a bright white freestanding bathtub and main walls in a shade of grey lighter than that of the grey accent walls, the mosaic tile wall finds it easier to show beholding eyes just how beautiful it is.
The fact that it's effortless to clean since you just need to wipe it down with a damp cloth to clean it, is just a pleasant bonus to this.
These tiles are perfect for a bathroom since they have resistance to chemicals. They're durable as well, so they make a really solid wall.
The two-accent wall of this bathroom is a magnificent addition to the space, being a strong and beautiful feature wall at the same time.
12. A Two-accent Wall Comes in the Form of a Grey Wall with a Concrete and Granulate Addition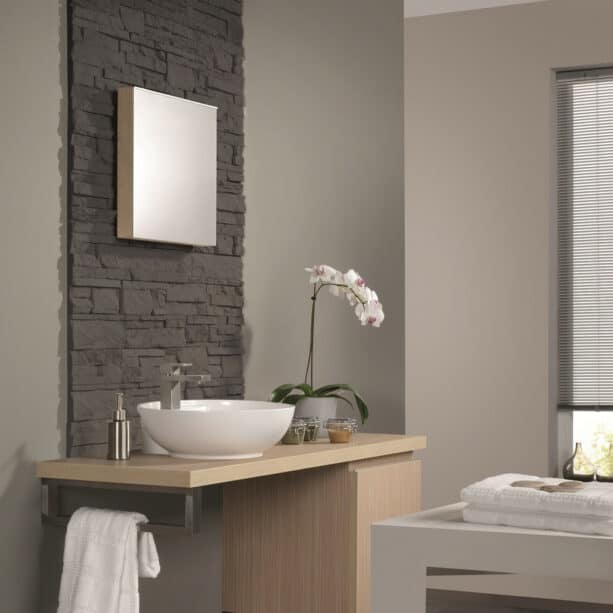 Accent walls don't need to contrast heavily against the main walls to be pleasing to the eyes, and the grey accent wall in this bathroom is proof of that.
Just slightly darker than the main walls, the feature wall still grabs attention easily while adding a cool tone to the bathroom, a tone that suits the space quite flawlessly.
The addition of a stone veneer wall to the mix gives the bathroom a romantic look and a warm feel that balances out the cool tone of the grey wall in a delightful way.
These effects are possible because of the natural materials, which are concrete and granulated, used to create the stone veneer wall.
The 100% frost, moist, and heat-resistant stone veneer wall looks so realistic, and it doesn't discolor, so it will retain its look for many years. It's durable, too, so one can rest easy when using this kind of wall as a feature wall in a bathroom.
Looking like real stone, the wall is super easy to clean, making it a brilliant choice for a bathroom.
Its color, which is basically a much darker shade of grey compared to the grey accent walls sandwiching it, works so well with them since different shades of the same color never fail to create visually pleasing combinations.
13. A Textured Stone Wall and a Smoother One Painted in The Grey Form an Elegant Combo of Two Accent Walls
The two accent walls in this dining room with stunning, translucent voile window panels are a great example of an appealing combination of texture and color.
The bigger accent wall is a textured stone wall comprising dark grey stones in varying sizes. It's an enormous and thick wall that immediately steals virtually anyone's attention.
The thick stone wall pops easily against white main walls, floor, and ceiling despite not being in the flashiest of colors.
Despite not being located at the center of the dining room, it finds little to no trouble becoming the center of attention in the bright space.
The thick textured wall looks captivating on its own but the smaller and smoother wall painted in grey that it surrounds proves that two are better than one.
The combination of texture and paint color doubles the amount of attractiveness the two-accent wall has.
Combining texture and paint color, the accent walls are guaranteed to never look boring. The fact that the walls are both in grey means that they form an elegant combo as well, as it's widely known that grey represents elegance.
An elegance-exuding feature wall is something that many would trade valuable things for.
14. A Two-accent Decorative Surface Formed by Wallpaper and a Benjamin Moore Texas Leather AC-3 Wall
Cheerfulness is what these accent walls in an open concept living room offer in abundance. They make a bright focal point that's full of energy in the living space with a dark brown wood floor.
It's made possible by the highly decorative surface of the walls, which combine wallpaper and paint in a creative way.
The white and yellow wallpaper by Elitis complements the overall scheme of the open concept living room.
It forms two pieces of bright and cheerful feature walls that easily fits the description of an open concept space that loves natural light and prefers brightness over other things.
The grey accent wall with a wall-mounted TV was painted using Benjamin Moore's Texas Leather AC-3, and it doesn't take anything away from the wallpaper.
The colors of the accent wall go so well with Duane Modern in TriBeCa accent chairs and the colorful pillow fabric by Opuzen, which are great additions to the bright space.
It's noteworthy that the combination of the white and yellow wallpaper and the grey wall is a balanced one.
The grey wall tones down the vibrancy of the white and yellow wallpaper. On the other hand, the wallpaper gives the cool-toned grey wall a lift.
15. Two Accent Walls That Marry Nautical Blue and the Natural Charm of The Stone
It's always nice to create a pair of accent walls using nature as the inspiration. Take a look at these accent walls if you're intrigued by this idea.
Looking at this pair of feature walls is like looking at a natural stone structure with the vast blue sky in the background.
The nautical blue walls in this beach-style family room create a soothing and relaxing atmosphere in the gathering space.
They really suit the purpose of the space, which is supposed to be a place where the family can spend time gathering and relaxing together.
The nautical blue walls suit the family room style, and so does the stone wall that they sandwich.
The stone wall brings stone's natural charm to the large coastal room with a carpeted floor and a stone fireplace. The durability of this type of wall just makes things times better.
Unlike wooden or metal accent walls, the stone wall won't bend, swell, or dent, making it a superb choice of a feature wall. It lasts long, is resistant to the elements, and stays beautiful and practically the same no matter how many years pass.
These two walls are charming, perfect additions to beach-style rooms, which love blue and natural materials.
16. A Small Dark Grey Accent Wall Sandwiched by Two Protruding Walls of Stones
In a farmhouse basement whose main walls and ceiling are white in color, this small dark grey accent wall with a wall TV effortlessly steals anyone's attention.
Heavily contrasting against the white wall that surrounds it, it adds a modern look to the otherwise traditional farmhouse basement with a Quarry-colored Masland carpet called Ansley.
Protruding walls of stones sandwich the small dark grey one, making things a lot more interesting in the basement by giving it a really unique design.
Not really identical to each other, the stone walls offer different functional benefits; one has shelves to store things, whereas another has a fireplace.
Connected to a bench, the protruding stone walls combine to create a seating area in front of the dark grey accent wall.
These highly functional accent walls are really unique in terms of design because they don't just stop at being decorative additions to the room. Every part of them is functional.
While the grey wall adds a modern touch to the basement, the protruding stone walls stay true to the farmhouse soul of the space.
They really suit the farmhouse style of the basement, which has rustic exposed beams that make it evident how farmhouse-like it wants to be.
Closing
Surely, you've learned various ways to combine two accent walls.
In case you still need more reasons to consider arranging a pair of accent walls in your room, here are some benefits of building such walls that may motivate you.
First of all, it's easier to add more colors, patterns, or textures to a room when you design two accent walls instead of just one. With two walls, it's easier to bring variety into a room as well.
Designing a pair of accent walls will stimulate your creative mind as well. These walls will allow you to get as innovative as you can, creating not only color combinations but creative combinations of colors and textures or patterns, too.
Your experimenting instincts will awaken as you experiment with different decorative kinds of stuff ranging from paint colors, wallpapers, wall materials, and more. As a result, you'll find unique ways to liven up a room at your house.
It's good to know that designing two accent walls isn't necessarily a costly task to accomplish. In fact, it can actually be quite a low-cost task to do.
When you can create a nice pair of accent walls simply using a combo of paint and wallpaper or probably some bricks, you don't need to splurge to beautify a room by giving it feature walls.