Using grey and orange in a living room can create an especially nice look in the room. It's true that orange goes very well with black or white. However, it looks times better when paired with grey.
The reason why the couple looks especially good together is that grey is a cool color that is closer to blue and purple than it is to black or white.
The good news is blue and purple are orange's complementary colors. Thus, a combination of grey and orange is guaranteed to look good in any living room.
Grey and orange can do a lot in a living room.
For instance, the generally cool grey hues can create a beautiful contrast when combined with the normally warm orange shades.
Also, grey walls can set a sophisticated tone, and orange can create colorful accents that make life in a living room.
Awesome, right?
The good thing is orange combines really well with virtually all shades of grey, so you'll have many options when combining the two colors.
Still, it's important to note that orange usually takes the focus because it's usually the flashier color of the two. Even a small dose of the color can be very effective. It's a good thing, though.
Check these living rooms out if you'd love to combine grey and orange in your living room, and you're open to using other rooms as sources of inspiration.
From a room that combines grey walls and leather motion sectional sofas to one that pairs orange walls with a big grey sofa and more, there are so many to be in awe of. Have a good time.
1. An Orange Graphic Wallpaper and a Gray Moroccan-style Area Rug in a Small Transitional Living Room
This stylish and elegant living room is relatively small, but it uses the available space brilliantly.
It has an orange graphic wallpaper that quickly grabs the attention of whoever is setting foot in the room. The orange wallpaper has some sparks of grey on it, and the pattern is a big poppy with petals that bring strong images of translucent silk.
Sitting calmly in front of the orange wallpaper is a big grey couch between vintage side tables in silver on which table lamps with grey covers sit. Then let's not forget that gray Moroccan-style area rug, which also takes the breath away.
The orange wallpaper and the grey area rug and couch create a nice contrast in the living room.
Why does a contrast between the orange wallpaper and the grey area rug and couch work so well?
It's because the two colors were born to look good alongside each other. Even color experts said that grey and burnt orange, which appears to be the color of the orange wallpaper, are a pairing made in heaven.
The contrast between the two colors is made even more evident in this room by the walls and the curtain. The walls are painted in grey, and the curtain comes in a color that perfectly matches the wall's paint color.
Grey and orange really give this transitional living room a stunning look to boast despite its small size.
2. It is When a Huge Orange Sofa Meets a Grey Wallpaper That a Modern Living Room Finds Its True Soul
Modern is probably the most appropriate adjective to describe this concrete floor living room.
The room has grey wallpaper decorated by a decorative mirror on one side of the wall. The grey wallpaper has a companion that loves to make a flashy entrance into any room. It's that huge flashy sofa.
The huge orange sofa in this modern living room undoubtedly steals the show. It's because its naturally bright color grabs people's attention easily.
Color experts say that even the slightest amount of orange can be effective in a gray room, and in this room, orange comes in abundance.
The sofa itself has a partner that looks as stunning as it is. It's that clear coffee table in front of it. It's sitting nicely on a 100% wool area rug.
If you wonder why the huge orange sofa in this room doesn't trigger the creation of an overwhelming atmosphere, you should know that it's thanks to the gray wallpaper.
Gray is known as the perfect neutral. One of the things this neutral color is capable of is moderating brighter colors.
The gray wallpaper used in this living room allows the orange sofa to go all out and be flashy while ensuring that the amount of orange sparks in the room doesn't feel too much. Incredible, isn't it?
3. What One Needs to Create a Stunning Contemporary Living Room are Orange Walls and a Big Grey Sectional Sofa with a Matching Area Rug
The remodeled living room you're seeing here is a small open concept living room with a light wood floor.
The room has a lot of things that make it stunning, and those orange walls are among them.
Painted in a bright color that always catches attention, the walls are highly visible to the eyes and immediately noticeable when one enters the room.
The orange walls are joined by a big grey sectional sofa sitting nicely on a rug that's also grey in color.
The sofa also has another friend in gray by its side. It's those two grey cylindrical side tables, which are also quite big in size.
There's a reason why this living room's color scheme works.
Orange walls are known to lend coziness to a living room. These are the kinds of walls that can make anyone entering the room feel comfortable.
They're also known as walls that create an inviting atmosphere suitable for gatherings of people.
They're among the perfect walls for a living room, a space where people gather and enjoy time together.
The use of a grey sofa, side tables, and carpet also benefits the living room. Grey is a color that's very close to orange's main complementary colors, blue and purple, making it a color that goes really well with orange.
This small open concept living room is so lucky to have these orange and grey things beautifying it.
4. A Combination of a Smooth Orange Carpet and a Grey Wall Gives Birth to a Strikingly Beautiful Living Room
Beautiful and inspiring, this medium tone wood floor living room got a new face it's definitely so proud of after the completion of its remodel.
The living room now has a smooth orange carpet in a large size. This carpet has a huge presence that makes it impossible not to notice and be in awe of it.
The smooth orange carpet has a lot of companions in this living room, and one of them is a grey wall.
This grey wall is on the side of the room that has three big windows that bring in light so that it's even easier to see and adore the orange carpet.
This living room also has an orange and white chevron wall on another side of the room.
The chevron patterns on the wall grab people's attention as effectively as the orange carpet. It's because both the carpet and chevron wall are in a color that's not only bright and flashy but has been proven as one that can easily take the focus in a living room.
Let's not forget that this living room also has bright orange pillows on a dark couch, which are highly visible and look so lovely against the dark backdrop.
The contrast between the clean grey wall and the shades of orange all over the room is what makes this living room look gorgeous. What a pleasant-looking space.
5. Orange Walls and a Grey Rocking Chair are Excellent Choices for a Living Room That Loves Its Midcentury Origins
This 1960s living room is undeniably a gorgeous space, and it's majorly thanks to its orange walls.
Painted in orange, the walls are matched by the floor. They look like siblings, and they look so natural around each other. The orange walls and the matching floor are undeniably gorgeous, but they're not the only things to adore in this living room.
After all, the room also has something that brilliantly complements its orange wall and matching floor. It's the painting used to decorate one of the orange walls.
The painting's objects are red in color, but the background, which takes most of the space on the canvas, is grey. The color goes well with the orange wall, and there's a reason for it.
Being extremely close to blue and purple, the primary complementary colors of orange, Grey is a color born to complement orange. It helps that this living room also has a grey rocking chair, which again complements the walls and floor, which is ideally a wood floor.
The living room also appears to have a grey sofa near the rocking chair, and this sofa finds little to no trouble fitting in.
Anyways, it's fair to say that this living room, which brilliantly combines orange and grey while retaining its traditional properties, is, without doubt, a space that stays true to its mid-century origins. Admirable!
6. The Pairing of a Gray Wall and Orange Modular Shelving Represents the True Definition of Color Couple Goals
With a wall painted in grey, this living room wants to make a statement that grey is its most dominant color.
However, it doesn't want to be simply a grey living room. That's why it has fascinating orange shelving that really pops against its grey wall. Not only does the shelving pop, but it also adds a very unique look to the room.
The orange shelving is called modular shelving. It consists of 1960s vintage shelves, and its color is matched by the orange X-shaped book rest holder.
These two beautiful orange storage units are surrounded by grey companions. The wall isn't the only thing that comes in grey in this living room.
After all, the room also has a grey custom-made upholstered sofa. The upholstery was based on a vintage style.
That's why either the modular shelving or the sofa doesn't look out of place in this living room. They both have vintage personalities that make them get along well with one another.
Aside from the wall and the sofa, the floor in this living room is grey.
Orange looks especially good when paired with grey, and that's why all the greys surrounding the orange modular shelves make them look fabulous instead of out of place and irrelevant.
The combo of the two colors is unquestionably a pairing made in heaven.
7. Sublime Luxury Manifests in a Living Room with Gray Walls and Magnificent Orange Leather Motion Sectional Sofas
What a wonderful space this living room is. It has a lot of surprises for whoever enters it, including a pair of magnificent leather sofas.
The sofas in question are orange leather motion sectional sofas, which sit nicely in the center of the room. The sofas are effective attention grabbers due to their bright color that stands out in any room.
The living room is surrounded by gray walls, making it a grey and orange living space.
The most prominent color that gets combined with grey and orange in this living room is brown. It exists on the room's brown floor. There are reasons why the color goes well with both grey and orange.
Brown and grey are a natural pairing because they're often together, even in nature. Consider the fact that the brown soil and gray stones always coexist nicely out there. It's not a surprise that the grey walls and the brown floor look so natural together.
What about orange?
Orange is actually an extremely complimentary color to the color brown. Together, the two can create a very trendy look. It's what happens in this living room.
The combination of grey, orange, and brown in this big living room turns into a large trendy living space that offers both looks and comfort. Awesome!
8. Marvelous is an Adjective That Suits a Living Room with a Bright and Shiny Orange Fireplace and Grey Walls Accompanied by a Matching Carpet
This living room with a metal fireplace shows no limits to how creative home designers can use grey and orange together in a living space. Just look at how marvelous this living room is.
The one thing in this living room that immediately catches anyone's attention is, without a doubt, that bright and shiny orange fireplace.
The orange fireplace is undoubtedly an attention grabber, but can it work singlehandedly to improve the living room's looks?
No, obviously. The fireplace's magic only works thanks to the existence of the grey walls and grey carpet around the fireplace. It helps that the walls and carpet come in darker shades of gray.
The gray walls and carpet are in dark gray helps make the orange fireplace stand out more. Dark grey and orange are contrasting colors that can give birth to an appealing look, and this living room makes this fact evident.
What kind of attractive look does this contrast create, actually?
Grey and orange indeed look incredibly wonderful together, but the looks they create depend on the shades used.
The contrast between dark grey and orange creates an appealingly modern look in this room. Thus, despite being a minimalist living space, this room can give a lot of inspiration to those trying to design modern living rooms.
9. Such a Trendy Living Room a Pair of Big Orange Bean Bags and Grey Walls and Carpet Can Create
There sure are many ways to combine grey and orange in a living room.
One of them is by giving the two colors different portions by using an abundance of one color and limited pops of the other. This living room does so in a brilliant manner. Its walls are painted in grey, but it doesn't just stop on them.
Grey is also present on the carpet, effectively engulfing the space in grey. Thus, the next task was to create limited pops of orange to beautify the landscape.
What is used in this living room to accomplish the task include a pair of big orange bean bags. These bean bags sit peacefully in a formation in front of a wall TV and storage unit.
The bean bags are, without a doubt, excellent additions to the living room. However, it won't hurt to add an artistic touch to an already beautiful and well-arranged room, right?
That's why this living room also has a painting that's mostly orange decorating one of its walls.
The incorporation of limited orange pops into this living room was actually a wise decision. After all, the use of too much orange in a small living room like this one can cause people gathering in it to grow tired of the color.
What a stylish living room that decision led to. Simply amazing!
10. When an Orange Wall is Joined by a Pair of Armchairs, a Sofa, and Movable Tables in Grey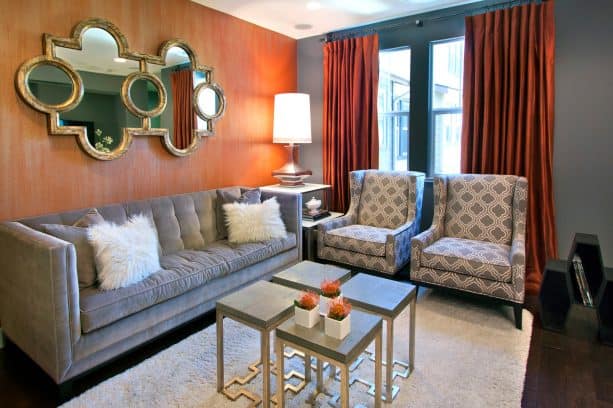 The living room shown here offers quite a lot of things despite being relatively small in size.
What makes it interesting is the fact that it doesn't feel cramped at all. It's probably thanks to the fact that the center of the room is dominated by light grey. Light colors are known to be able to help make rooms look and feel bigger.
The room itself has walls painted in different colors. One of the walls is painted orange and decorated with a decorative mirror.
Another one is painted in gray, and it has big curtains that match the color of the orange wall. These curtains are meant to cover the big windows on the grey side of the walls whenever needed.
As for the center of the room dominated by light gray, it has a light grey sofa with grey and white pillows on it. A pair of armchairs in grey are members of the group as well. So are four small movable tables with grey tops.
This room is an excellent example that even a small amount of orange can be a very effective addition to a living room.
Grey has a wider reach in this living room, existing on one of the walls and almost all of the furniture pieces used in the room. However, it still looks like this room presents a balanced combination of grey and orange.
Well, regardless of anything, what's important is the fact that the combination looks enchanting.
11. An Industrial Living Room Can Benefit from the Presence of a Grey Floor and Matching Concrete Walls Decorated with an Interesting Orange Fabric
There's something unique about building a floor and walls that look unified.
Just look at how amazing this living room is with its floor and walls that look totally the same. Both are in grey, and there were no paint products involved in the process of projecting the color onto their surface. Yes, the floor and walls in this living room are concrete.
This mid-sized urban living room with a gray concrete floor and matching walls have a metal fireplace above which you can see a simple yet eye-catching piece of art. It's an abstract painting that depicts something in orange and two different shades of grey. It suits the overall color scheme of the living room.
After all, this living room really loves grey and orange, evidenced by the grey concrete wall being decorated by a really long orange fabric.
This fabric adds a unique look to the room. Additionally, it also creates a pleasant contrast between orange and grey in the room.
The addition of the enigmatic fabric to the wall doesn't only complement the grey wall with a spark of orange. It helps make it more noticeable as well.
Of course, the opposite applies, too, because the fabric can only look so exciting thanks to the grey backdrop. It's pretty simple yet very effective. Additionally, the results are very nice as well.
12. Orange Lamp Covers are Small, but Their Presence is Big Enough to Let Them Become the Main Accent Color in a Grey Living Room
Grey is often used as a background color, whereas orange is frequently used as pops that create a flashy spark on a color scheme. This living room can give you an excellent example of that.
The room has a grey wall adorned with a decorative mirror. The wall is, of course, very dominant in this room.
Now let's move to how orange is used in this living room. It's only used as an accent color. In this room, it appears on the lamp covers.
The fact that the color only appears briefly on items that are pretty small in size doesn't diminish the color's capabilities to stand out, though.
Despite being small in size, the orange lamp covers have a big presence. It's the nature of the bright color to take the focus whenever it's used. This room's wall is grey in color helps make everything balanced, though.
It's widely known that grey can soften the always bright orange, and it's what happens in this living room. As a result, the orange lamp covers provide just enough sparks to make the room look attractive.
This living room shows a brilliant way to use the two colors in the same room.
13. The Contrast Between an Orange Platform Sofa and Light Gray Walls is So Beautiful Any Living Room Would Embrace It Without a Second Thought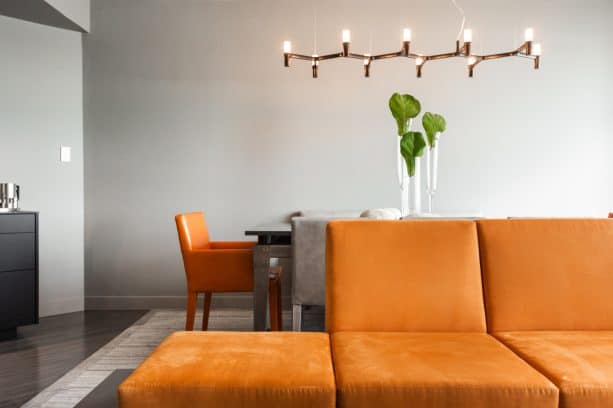 Light-bathed, this living room shows a lovely contrast between grey and orange.
The room has grey in abundance as the color exists on the room's walls, which envelop the whole room. Grey also exists on the room's floor, making it the most dominant color in the room.
However, this open concept living room likes it more when grey partners with a color that contrasts pleasantly with it.
That's why this living room has those bright orange furniture pieces. The orange pieces of furniture include an orange platform sofa, an orange ottoman, and an orange dining chair.
While the orange platform sofa and the ottoman in the same color spend time at the same area, the orange dining chair chooses to stay with grey furniture pieces in the form of grey dining chairs.
The grey and orange shades used in this living room are quite light, and their combination works really well.
The grey walls are light in color, and the grey dining chairs are.
The fact that bright orange furniture pieces are combined with them means that this living room is now a living space that looks modern while offering sparks of luxury at the same time. Wonderful!
14. Orange and Red That Hang Around with Each Other on an Area Rug is the Accent Colors That a Living Room with Gray Concrete Walls and Floor Needs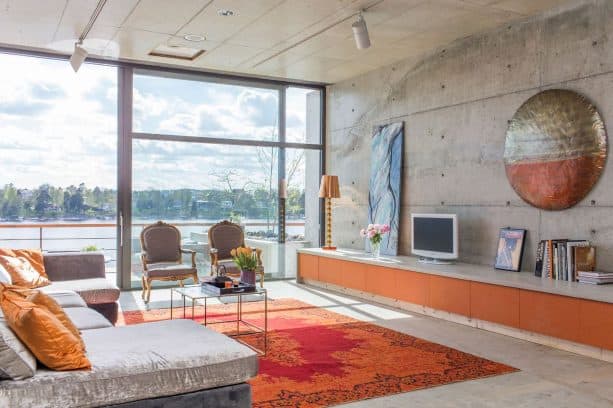 Grey and orange sure work incredibly well together, but they're not too picky when it comes to which colors they would welcome into their little group.
One of the colors they would welcome into their group without second thoughts is red. This living room can show you why.
This living room has a concrete floor and walls built using the same material, thus, having the same color.
The living room has a silver sofa with orange pillows on it. The sofa looks rather flashy because its silver surface sparkles a little, especially when coming into contact with light.
Additionally, the room also has a long range of white cabinets with orange doors. These cabinets are such an excellent addition to the room because they suit the room's overall color scheme.
Of all the orange stuff, the orange and red carpet on the floor is probably one of the things that grabs the most attention in this open concept living room.
The carpet instantly shows you that orange and red combines seamlessly.
How does red combine with grey, though?
Being such sophisticated, classic colors, they're known to complement each other extremely well. That's why this grey and orange living room looks so naturally appealing with the sparks of red provided by the carpet.
15. A Grey Couch in Front of a Bright Orange Wall is Enough to Give a Living Room an Astoundingly Gorgeous Look
This mid-sized formal living room doesn't stay away from letting orange project its beautiful brightness onto things in the room.
The 1960s living room has a bright orange wall that easily grabs so much attention. Everyone entering the room will instantly notice the beautifully bright wall.
The orange wall is decorated with an abstract painting. It turns out orange is a good backdrop color for paintings, as made evident by this living room.
The wall is combined with a gray floor, and the combination looks so natural, providing a stunning contrast.
In front of the wall is a grey couch that doesn't look out of place being in front of the bright orange wall. The couch proves that orange and grey are really a special pairing that always looks especially beautiful when used together.
What an astoundingly gorgeous look this living room has, thanks to the orange wall, grey floor, and grey couch.
16. The Things That a Living Room with a Grey Sofa and Walls Needs the Most are Brightly Popping Orange Pillows
Different shades of grey can be used in the same living room, and this living space is proof of that. With grey walls and a sofa that also comes in grey, this living room shows that different shades of grey do look good together.
This living room also proves that bright orange pops are always excellent additions to a room dominated by grey.
In this living room, the bright orange pops come from the orange pillows on the sofa. The brightly popping pillows are put against a rather dark shade of grey. The end result is fantastic on so many levels.
First of all, the contrast between the rather dark shade of orange on the pillows and the sofa looks clean, crisp, and gorgeous. Then there's the fact that the orange pillows and grey sofa make each other more noticeable by being pitted against one another.
The combination is absolutely what the living room needs to get its great look.
17. A Pair of Dark Grey Sofas and Orange Armchairs Grab All the Attention in an Open Concept Living Room
Big and spacious, this living room loves grey and orange so much that almost everything in it embraces the two colors. It has a grey floor and a grey ceiling, which indicates that it really wants grey to dominate its space.
The floor and ceiling are concrete, so their grey color is actually a natural one.
This living room also has a pair of dark grey sofas sitting opposite each other on a carpet near the room's fireplace.
There are orange pillows accentuating the dark grey sofas. The pillows, however, aren't the only things orange in this living room. There are also a pair of orange armchairs sitting in a direction facing the fireplace.
The grey sofas and orange armchairs look like partners in crime in this living room. However, their only crime is giving the large living room its breathtaking appearance.
18. It's Amazing How Much Orange Furniture Pieces and Ceiling Lamp Cover Can Improve the Overall Looks of a Grey Beach Style Living Room
Dominated by grey, this beach-style living room has a simple but very enchanting look. It has walls painted in grey, and its bigger furniture pieces are also grey in color. The fireplace under the wall TV is also framed in grey.
However, grey isn't the only color this living room loves.
This beach-style living room also loves orange quite a lot. There are beautiful furniture pieces in orange, and they look stunning.
Just look at those small orange glass-top tables. The orange side table near the window is an eye-catcher as well. Also, don't forget that unique orange ceiling lamp cover.
Despite being given only a little supporting role, all of the things that come in orange in this living room really steal the show. They provide the room with sparks that look good and suit the more dominant grey incredibly well.
19. The Addition of Orange Flat-panel Cabinets to a Living Room with a Grey Ceiling and Walls Makes the Space Look Heavenly
If there's a living room that's in so much love with grey, this room is probably it.
It has a grey ceiling, grey walls, and grey wall cabinets. As if that's not enough, it still has a grey carpet covering its floor. On top of the said carpet, it has a big and smooth grey sofa with grey pillows to match its overall color scheme.
However, the room's love for grey isn't absolute. It's still willing to welcome other colors into its surrounding. The orange dining chair and the orange pillow ball on the sofa are proofs of this.
If there's bigger proof that the room is willing to welcome colors other than grey, it's those orange flat-panel cabinets.
The shiny cabinets are perfect accents to the grey living room. They stand out and are great attention grabbers. They also prove that even functional items like cabinets can be turned into incredibly appealing decorations.
Closing
Grey and orange are two colors that are destined to be together. They can be used in various types of living rooms and will make them look awesome whenever they're used.
Additionally, virtually any shades of grey and orange can be combined to create an appealing look in a living room.
We've provided you with a number of living rooms that become houses for adorable combinations of grey and orange.
Did you manage to find some combinations that you thought were incredibly inspirational?
Our hope is that you did, and you can adopt or adapt the combinations to build your own astonishing grey and orange living room.