Installing a grey front door is something that can benefit you in a lot of different ways.
First of all, since the front door is a part of the exterior, a grey front door is amongst the best choices available.
Why is it? In a bright area, gray can provide a really nice contrast.
That's not all, obviously.
Another benefit of using a grey front door comes in flexibility.
Grey is a neutral color that goes with virtually any other color. That's why it's a color that's so frequently incorporated into exterior designs.
In addition, grey is known to run a wide gamut between cool and warm. There are many ways to use it.
The next perk of using a grey front door is related to the fact that grey is controlled. It's a color that has a steadying effect on the other colors it's combined with.
When it's combined with brighter and stronger colors, it tones them down. When combined with softer colors, it illuminates them.
Grey front doors are unique because they suit virtually any exterior color and design.
If you'd love to paint your front door in grey, we've got a list of grey front door ideas you should check out.
There are so many to be inspired by, from a dark grey front door in a metallic finish to a stainless-steel grey front door. Enjoy!
1. A Dark Grey Front Door in a Metallic Finish and a Limestone Floor Enhance the Look of a Modern Home Entryway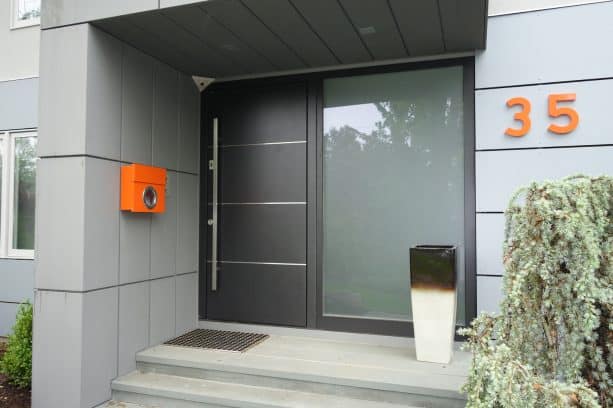 This entryway is part of a modern home, and it has a limestone floor in light grey. The floor perfectly matches the walls and ceiling.
However, the focal point of the entryway is, without a doubt, its grey front door.
The door is in a shade of grey that's way darker than those of the limestone floor and the walls.
The dark grey front door is ultra-modern with a metallic finish. It also has large sidelight frosted glass.
This door comes with a biometric fingerprint access feature that offers up to 99 combinations. The dark grey front door also comes with a fantastic square long door pulled in a way brighter color than it is.
This fantastic door was actually custom designed and built to the size before eventually getting installed at the entryway.
The door never fails to add a modern look to the entryway. It's especially so when the door is placed side by side with a wall consisting of a huge piece of glass framed in a dark shade of grey.
The grey front door is undeniably unique since metallic doors are all special thanks to the liquid metal that is gradually applied to them in layers. The process allows every metallic door to shine and adds a modern look to an area it's used at.
This grey door isn't an exception to the rule. What an excellent addition it is to the entryway.
2. The Combination of a Benjamin Moore Amherst Gray Front Door and a Fiber Cement Siding Painted in Bell Song Makes Sure That an Eco-Home Looks Elegant
This exterior belongs to an award-winning green home that was designed with the homeowners' family health and energy performance in mind.
The exterior looks really elegant, with a bright siding complemented by a grey front door. The combination works perfectly, and the exterior looks simple yet enchanting.
The grey front door was painted using a Mythic non-toxic paint that was matched Benjamin Moore's Amherst Gray. The designer chose to paint the door's trim to give the door extra presence and height.
The grey door provides access to the house's interior and is combined with fiber cement siding.
The siding was actually prefinished and ordered in Arctic White. However, the designer chose to warm up the color a little and painted over the Hardie plank using Mythic non-toxic paint.
The new color matches the door's grey perfectly. It is, obviously, still a lot brighter than the front door's color.
The front door's color is a perfect match for the siding's in a way that the shade of grey used to paint the door tones down the bright siding's color. It creates a nice balance that, in turn, makes the exterior look elegant despite being quite simple.
The grey front door is unquestionably a fantastic addition to the exterior's design.
3. When a Custom-colored Cedar Shingle Siding and a Grey Front Door are Painted Using a Mix of Benjamin Moore Paint Colors Grace a Craftsman Entry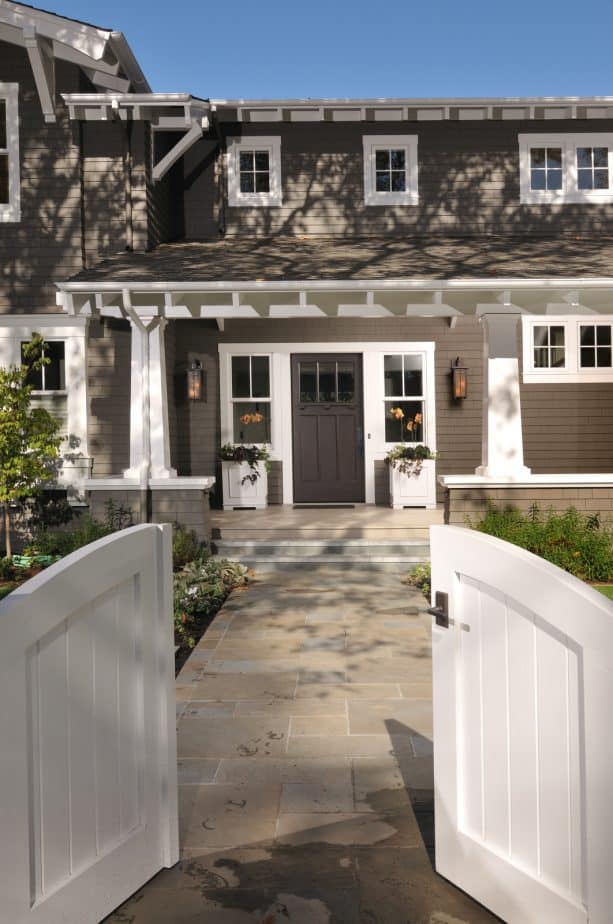 This arts and crafts entryway boasts the beauty of paint colors belonging exclusively to it.
The craftsman entryway has a siding of cedar shingles painted using a color custom. It also has a grey front door in a color that almost identically looks the same as the siding's, which was colored using Cabot stains color 'Spanish Moss'.
The door was actually painted in a color that custom mixed. The house designer worked on the color of the grey front door on site.
If you want to imitate the door's look, you can try mixing Benjamin Moore's darker greys and warm whites. They're the colors the designer combined to create the door's color.
The shades of grey used to paint the front door and siding are quite dark, and there are benefits of using such shades.
First of all, because gray is a color that negotiates the distances between black and white, it's considered a conservative and elegant color. It gives the exterior on which this grey front door is elegant.
Dark grey is also a cool color, and it can communicate some of the mysteries and strengths of black. It's considered a color that looks sophisticated and lacks the negativity of black at the same time.
The custom dark grey paint on this grey front door helps give the entryway that sophisticated look it needs. Cool!
4. Grey Front Doors Combined Beautifully with White Walls Prove the Two Colors are a Pairing Made in Home Design Heaven
Grey front doors are perfect pairs for white walls, and these exteriors can give you evidence for this statement.
The first picture shows a grey front door combined with a wall painted in Dunn Edwards' Whisper White.
The second one shows a grey front door made of powder-coated aluminum panels and clear-anodized aluminum thru-dividers.
These grey front doors are automatically darker than the walls paired with white walls. As such, they tone down the color of the walls, which sometimes can be too bright for the perceiving eyes. Of course, it's not all that the grey front doors do.
Grey front doors complement white walls very well because both are colors that go with virtually any other color.
However, there's something special about the combination of grey and white. It creates a serene ambiance, allowing entryways it's used to give a serene and peaceful place to spend time at outdoors.
5. A Unique Baby is Guaranteed to be Born When a Grey Front Door is Accompanied by Silver Corrugated Metal Walls and a Dark Hardy Plank Siding
What separates this modern exterior from the rest is that it has metal walls that are left in their original color. The metal walls in question are silver in color.
On one of the walls, you can see a cute grey front door in a color slightly darker than the walls' natural silver color.
Despite not being a lot darker than the walls, the grey front door is highly visible.
The walls themselves are corrugated metal walls. They're made of a material that's usually used for roofing.
The grey front door isn't only accompanied by the metal walls as there's also a hardy plank siding in an even darker color above them.
The dark grey siding is on the second story of the house.
After all, anything silver can become a natural pair for anything grey. Combining silver and grey is an effective way of making anything look good. Although gold can be a better pair for grey, silver has always been known as a good partner of the pale color.
Combining a grey front door with silver walls can create a bright and breezy exterior. It helps that the shades of grey on this front door and the shade of silver on the walls perfectly match each other.
Looking modern aside, this exterior is undeniably among the most unique and enchanting exteriors with grey front doors out there.
6. It is When Front Doors are Painted in Tuxedo Grey Combined with Exposed Brick Walls and Copper Shutters That an Entryway Gets a Gorgeous Glow-up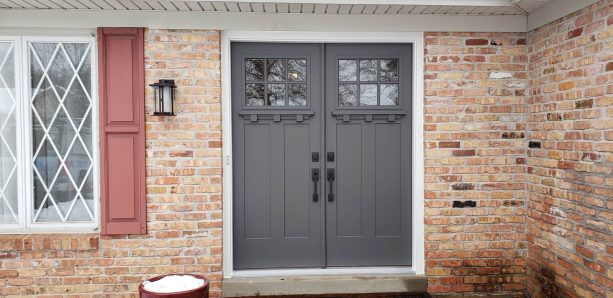 Artistically gorgeous, these grey front doors belonging to this farmhouse entryway are unquestionably a meaningful addition to the area.
The front French door has a dimension of 5/4×6/8×4 9/16″ each. They're panel craftsman doors that don't only look good but also meet the requirements to be called a true craftsman style door.
After all, the French door comes with exterior dentil shelves. Dentil shelves are decorative ledges that are installed on a door slab's exterior, and they characterize craftsman-style doors.
The shelves aren't all the doors have, though, since they also have 6 lite clear glass surfaces on their upper areas.
What can also be found on the doors aside from the clear glass on their upper areas also include century handles that are set in 716 finish.
The doors themselves were painted in Tuxedo Grey. Try getting the products of Pittsburgh Paints if you want to imitate the look and adapt it for your entryway.
The grey front doors are combined with exposed brick walls and copper window shutters.
The combination of the three works really well as it embodies the idea of creating craftsman-style doors to be used at a farmhouse.
The grey front doors sure get the right companions in their quests to beautify the entryway.
7. An Appealing Rustic Look is an Easy Target to Achieve When One Has a Grey Front Door and Bright Brown Wooden Walls Plus a Light Wood Floor Entryway
This small rustic entryway has a light wood floor colored in gray that leads the way to a grey front door. The grey front door looks so cool being framed in a slightly darker shade of gray.
The doors and the trims were finished by a painting contractor on site. They are met with brown wooden walls arranged in an attractive manner.
The brown walls are quite light in color. The gray door and trims, on the other hand, are quite dark. The contrast helps make the door more noticeable, exposing its beauty to those watching.
The combination of the grey front door and the brown wooden walls feels natural at this entryway. It's because the combination of the two colors is something that you often see in nature. Take grey stones on wet soil, for example.
They're a perfect pairing and can surely enhance the looks of an entryway.
Color experts suggest creating a contrast with a texture when combining grey and brown. It happens at this entryway. The texture of the wooden walls makes the contrast even more noticeable.
Of course, it goes without saying that the combination of the grey front door and the wooden walls at this entrance helps create its charming rustic look.
8. An Exterior Will Look Timeless When It Has a Grey Round Top Front Door with a White Frame Surrounded by Walls in a Lighter Color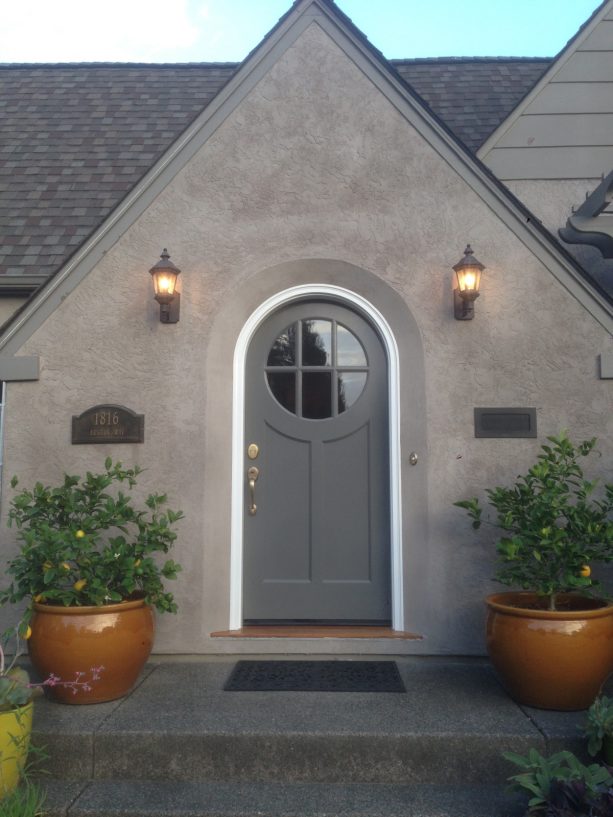 The beautiful door that this traditional entryway has is one that not many homes have the privilege to have.
More homeowners opt for the regular square top doors than a round top door. This is probably something that makes the grey front door look special because it's not every day that you see a door like this one.
The presence of the round top door gives the entryway a timeless look.
The door is put against a grey backdrop, and it must be a challenge to provide it with an identity. The wall surrounding it is also in grey.
Although the wall is in a lighter shade of grey, the door would fail to establish its own name if something wasn't done.
Thus, the grey door was given a frame that separated it from the wall. The frame was painted in white, and it creates a boundary between the door and the wall.
The way shades of greys are used at this entrance is actually quite impressive because it's in line with expert words.
A color expert says that if one's going to combine shades of grey, it's important to keep them in similar shades. What's done at this exterior is just that.
Despite being a bit different, with the door's grey being a bit darker than the wall's, the two shades of gray are quite similar. This is why the combination works really well. Well done.
9. A Shiny Stainless-steel Grey Front Door and Lovely Purple Walls are a Pair That Gives a Sunken Front Entryway Unparalleled Beauty
While most entryways welcome guests to interiors through doors made of materials usually used to build a door, such as wood, this entryway does so through a stainless-steel door.
The highly modern home's grey front door looks so shiny, and it looks like a sunset, clouds, and the brilliance of light combined to create something majestic.
The grey front door suits the sunken front entryway very well.
The door is combined with purple walls, and they look perfect around each other. It's because experts say that a grey shade can go especially well with a purple hue. It can allow the two colors to create a color palette that can significantly affect it.
The key to combining gray and purple is the importance of working with the tone of the purple shade, not against it. This is what happens at this entryway.
The grey front door and the purple walls look charming side by side. They don't create a contrast, yet they still manage to create a beautiful look at the area.
It's noteworthy that color experts also say that it's wise to avoid using yellow when combining grey and purple. It's applied to great effectiveness at this entryway. No shades of yellow are found in it.
The combination of a grey front door and purple walls works perfectly at this entryway. Brilliant!
10. A Pretty Pop is Something That a Grey Front Door on a Yellow Wall with Unique Small Windows Never Fails to Add to a Courtyard Duplex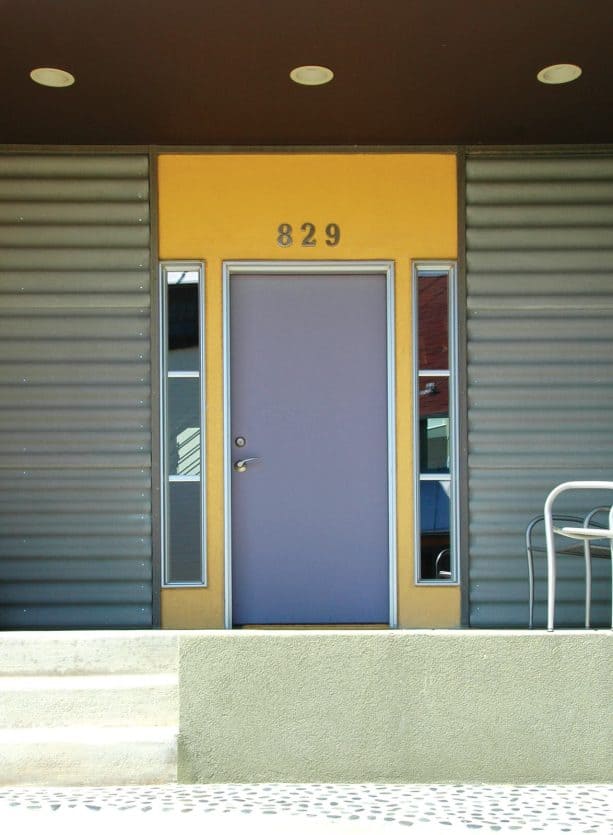 A pretty pop is something that many exteriors won't mind having, and this entryway is among many on the list to be willing to welcome pop of color to its scheme.
This entryway has a minimalist design, but the grey front door and everything that accompanies it makes it look stunning. Just look at that grey door and that yellow wall.
There are reasons why the combination of a grey front door and a yellow wall works at this entryway.
First of all, grey and yellow are known to work very well together. Grey can tone down yellow's vibrancy. On the other hand, yellow can give cool-toned grey an excellent lift. Combinations of the two always work.
Since this entryway is a part of a courtyard duplex that's proud of its modern look, a combination of grey and yellow is also a perfect choice for the property.
After all, a combo of grey and yellow works well with contemporary and modern styles.
What's the implication of using a grey front door and a bright yellow wall at an entrance like this?
Well, a grey front door and a bright yellow wall can become a powerful tool to beautify an exterior. Also, the restful shade of grey and the popping yellow that are present at this entryway make the exterior look interesting.
The addition of those unique small windows on the wall sure makes everything better. Perfect!
11. Pleasantly Welcoming Guests to a 1960s Mid-Century Residence is a Duty That Only Double Dark Grey Front Doors Aided by Stones and Wood Can Accomplish
Such a pleasant space this mid-century entryway is.
The 1960s entryway has a lot of things that make it a pleasant entrance to the beautiful property. It has dark grey front doors that fit the concept of the house really well.
The grey front doors have regular rectangular shapes and are met with a wooden wall.
The doors are combined with other things that represent mid-century designs.
For instance, the large windows on the exterior are representatives of the house's midcentury identity.
There's also an expansive pane of glass beside the door that allows light to enter the property. It's also a characteristic of midcentury homes.
The grey front door is also constantly in a close relationship with a wall of exposed stones of varying sizes. This, too, is a characteristic of a midcentury home.
After all, integration with nature is among the things that define a home in this category.
The doors themselves are dark in color, and they create a pleasant contrast when put against the ceiling and the walls that surround them. The other exterior parts are in lighter colors, and the combination works really well.
The doors really succeed in creating a pleasant entrance that welcomes guests to the mid-century home's interior.
12. A Group of Partners with a Grey Glass Front Door Deserves Should, at the Very Least, Consist of Red Brick Walls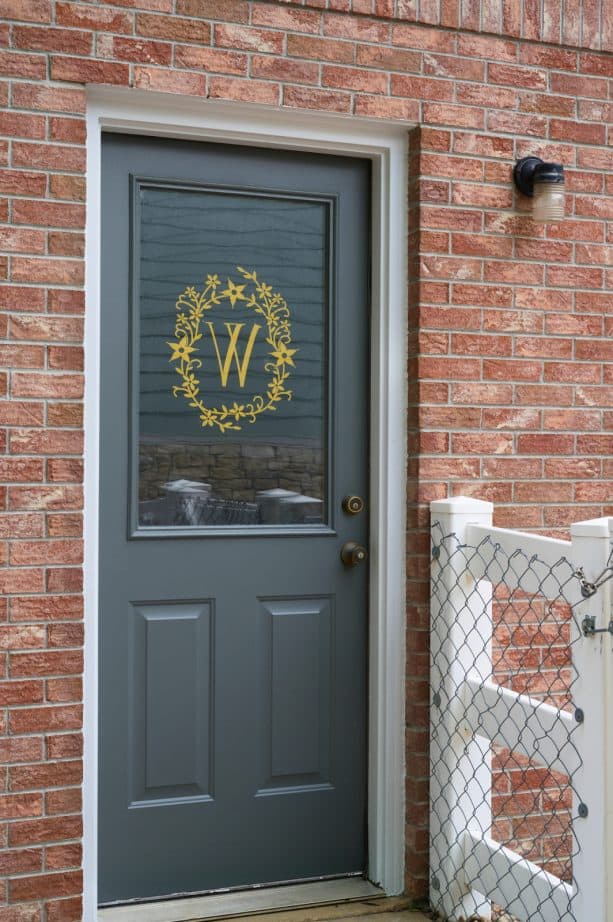 This mid-sized concrete floor entryway is graced by the beauty of a grey front door that dares to be different from many others.
The grey front door is painted in a quite dark shade of grey, and it creates a nice contrast with the red brick wall that surrounds it. The wall is something that the front door really deserves.
One of the things that make the grey front door different from other doors is its glass front upper part.
The glass portion is quite big, and the glass is decorated with yellow wrath.
Aside from making the door look good, the glass on the upper part of the door also offers functional benefits.
Glass front doors are known to have the capability of letting in a lot of natural light. Thanks to the glass, natural light can get its much-needed freedom to stream into the interior of the house.
What are the implications?
Well, a glass front door can help bring the outside in because the presence of light is what makes humans able to perceive images.
By bringing light and the outside in, a glass front door can also help the homeowners feel more connected with nature and feel energized at the same time. It's undeniably impressive!
13. A Light Grey Front Door That Contrasts Against a Wall in a Darker Shade of the Color, and a Bright Wooden Ceiling Can Never Make an Entryway Look Bad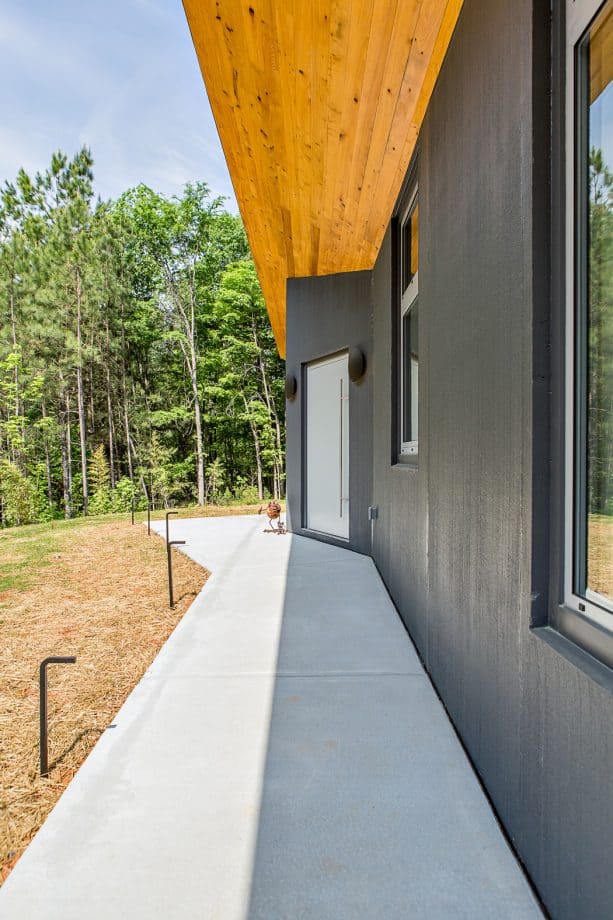 The vast dark grey walls at this exterior are met with a much lighter grey front door, and they look outstanding alongside each other.
They're also met with a bright ceiling made of wood, which also suits the exterior's overall color scheme.
There are reasons why the combination of these colors works incredibly well.
It's known that combining light grey with darker colors, including dark grey, can create a contrast that attracts attention.
In the case of this entryway, the combination also helps make the grey front door highly noticeable. It's due to the fact that it's way brighter than the dark grey walls.
It also helps that the two shades of grey are combined with a bright shade of brown that's present on the ceiling. It's already a widely known fact that grey and brown go back a long way.
They've been together for so long in nature as brown is the color of the soil and grey is the color of many stones.
Thus, it's not surprising that none of the three looks out of place around each other. It's also a wise decision to make sure that the concrete floor in front of the property is in a color that matches the grey front door perfectly.
In short, the grey front door looks stunning around these things that look like their natural habitat. Marvelous!
14. A Pair of Large Grey Double Front Doors and Matching Window Shutters with an Exposed Brick Wall are the Things an Eclectic Exterior Needs the Most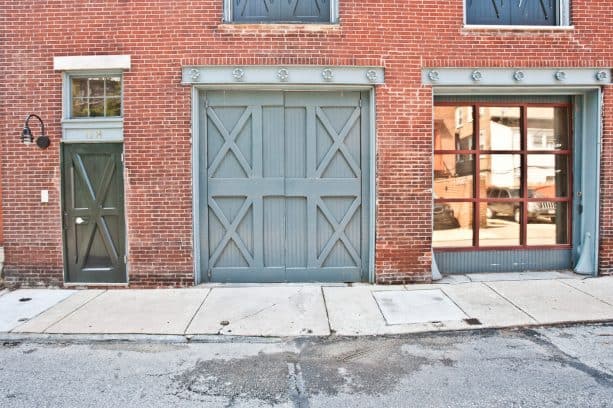 Large and exciting, this eclectic entryway absolutely deserves that pair of large grey double front doors.
The front doors were painted in a shade of grey that's matched the paint color of the window shutters on the upper part of the wall.
The wall itself is an exposed brick wall that contrasts heavily against the brighter grey front doors.
These grey front doors and the exposed brick wall really embody the idea of an eclectic exterior.
After all, one of the characteristics of eclectic exteriors is a mixture of textures and colors. The combination of exposed rough raw bricks and the sleek front doors is an excellent example of this idea.
When designing an eclectic exterior, one is supposed to take risks by mixing textures, patterns, colors, and more.
At this entrance, the designer took risks by combining the grey front doors with exposed raw bricks and a cleanly designed window with red frames, which is big enough to be noticeable.
Experts say that when it comes to designing an eclectic exterior, it's wise to stick with neutrals to help tie all the used elements together. The grey front doors appear to be the parts that take up this duty at this entrance.
The good news is they accomplished the mission assigned to them successfully and in style.
Closing
It's a fact that installing a grey front door is more often than not a wise decision because grey goes with almost all other colors. Exterior paint palettes almost always use varying shades of grey.
There are many reasons for this, and you probably have found out about some of those reasons from looking at the exteriors we've presented to you.
Did you find some of the exteriors we've presented interesting?
Don't forget to try adapting them to your exterior if you did find some.
You don't need to worry too much when trying to incorporate a grey front door into your design. You'll be surprised by how versatile the color is.
Good luck with designing your own grey front door.