A rip rap retaining wall can stabilize an area with a high rate of erosion, which means the gradual destruction of a thing that can create flooding issues or other problems.
Generally made of a layer of stones, boulders, or cobbles, this kind of wall can armor, protect and stabilize a soil surface against erosions.
A rip rap retaining wall can be effective for many years.
Additionally, despite the fact that they tend to be unattractive when designed nonchalantly, they can be very cost-effective because the materials used to build them are often relatively cheap.
Also known as rock armor, rubble, or shot rock, a rip rap retaining wall is designed to defend an area from damaging conditions.
However, one should note these things when laying down the rocks to create such a wall to get the best results possible.
a. It's important to use filter materials
A rip rap wall must always be underlain by filter materials that consist of nonwoven geotextile fabric or granular materials. The purpose is to keep underlying soil from unwantedly piping through the rip rap stones.
The geotextile fabric or the bedding should be sized properly as well so that undermining of the underlying soils or erosion can be prevented.
Furthermore, a cushion of gravel and sand must be placed under the geotextile fabric to protect it from tearing or puncture during the placement of the rocks.
If the fabric is damaged, it should be repaired by simply placing another piece of fabric over the area that gets damaged or even by completely replacing it. It depends on the severity of the damage.
b. It helps to know the average cost of installing a rip rap retaining wall
The average cost of a rip rap wall installation ranges from $30 to $65 per square yard, although it can exceed these amounts depending on transportation costs or rock sizes, and other details.
Although the price varies, it helps if you know the average cost so you can prepare your budget beforehand.
c. It's vital to choose the right types of rocks to use
The common types of rocks used to build rip rap walls include granite, limestone, and bluestone. You can choose one of these rocks to build a solid rip rap retaining wall. However, it's important to make sure that you don't use sandstone for your project.
The load within the normal sandstone block is, unfortunately, carried unevenly. It means that some sandstone grains might carry more weight than some others. As a result, water can seep into their pores easily, eroding bits of them.
Here are several rip rap retaining walls that may inspire you as you try to build your own. From a bluestone wall to a limestone one and more, there are many rips raps to be heavily inspired by.
1. A Natural Bluestone Rip Rap Retaining Wall Blends in Seamlessly with the Design of a Victorian Exterior
Built using natural bluestone, the rip rap retaining wall belonging to this Victorian exterior blends in seamlessly with the exterior's design.
A part of a house that's 48 feet wide with approximate square footage of 5,200 square feet, the retaining wall directly touches what appears to be a bank in front of the property.
Made of bluestone, whose hardness and dense composition make it an extremely durable stone, the wall can withstand extreme weather conditions.
One of the reasons why the bluestone rip rap wall suits the Victorian exterior of the house with Marvin windows is due to the fact that Victorian homes usually have wood or stone exteriors.
Large and imposing like all Victorian homes are, this house with a complicated and asymmetrical shape is an authentic Victorian house with a stone siding. It's just natural that the rip rap retaining wall complements the exterior of this house.
It's fair to say that the house is a Second Empire and Romanesque style one since houses belonging in this category have outer walls that are made of stone. It's good to see that a bluestone rip rap wall suits this style splendidly.
2. Pretty Large Rocks Perfectly Make a Tall Rip Rap Retaining Wall in Front of a House on a Highland
Located on a highland, this house with a 16′ flat four-panel steel insulated door has its all-important soil protected by a tall rip rap retaining wall perfectly made of rocks in pretty large sizes.
Growing above the rip rap retaining wall are what appear to be perennials in front of a glass handrail built using standard 1/2″ frameless tempered glass, plants that bring life to the exterior.
The rip rap wall stands out among more modern parts of the house, including a Fir front door, a horizontal cedar in clear stain from Sikkens, an anodized aluminum roof, and black soffit and windows.
Quite tall, the rip rap wall is perfect for the location of the house.
Moreover, its existence perfectly suits the style of the house because the transitional style mixes modern and traditional styles, with the retaining wall representing the more traditional aspects of the property.
3. Multiple Tiers of Dark Rip Rap Retaining Walls Create Leveled Areas of Interest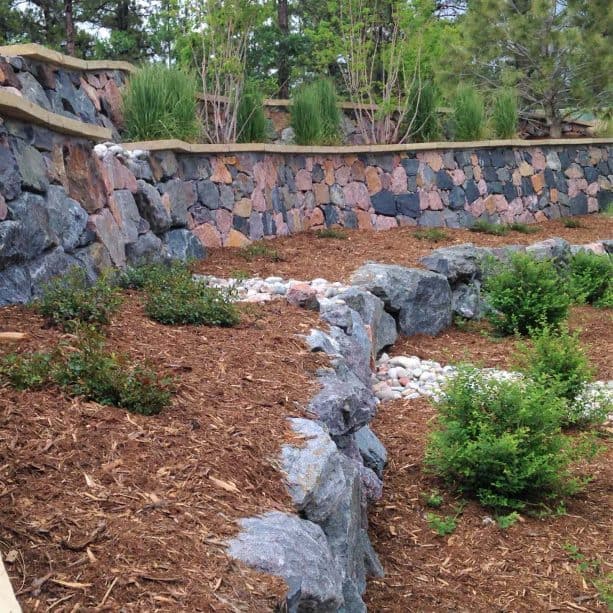 This sloped property full of raw soil benefits greatly from the installation of the multiple tiers of dark rip rap retaining walls on its surfaces.
Previously not useful, the areas on which the rip rap walls are installed turned into practical, level areas.
The boulder rip raps help protect the soil from erosion, and in doing so, they even bring reinforcements in the form of shrubs grown on the soil, whose strong roots protect the soil from the sun, downpours, and harsh wind.
In colors that contrast against the soil, the rip rap walls create multiple levels of areas of interest.
Their existence allows the eyes of the beholders to travel from one tier to another, enjoying the views created by the installation of the retaining walls.
Fortunately, the rip rap walls complement the contemporary front yard at which they're located really well because the contemporary style is one emphasizes a direct connection between outdoors and indoors.
4. A Rip Rap Retaining Wall is an Appropriate Addition to a Mountain-Style Rustic Exterior
A part of a big mountain style three-story home with mixed sidings and a shingle roof, this rip rap retaining wall is an appropriate addition to the rustic exterior of the property of imposing size.
As experts agree that architects designing mountain-style homes like this one most often use natural materials, including stone, the rip rap wall is undeniably a superb choice of retaining wall to add to the house.
The rip rap wall uses very raw materials, which fit the mountain style of the rustic property since natural, sturdy and raw materials are key markers of properties of this kind.
Together with the shrubs growing on the soil it laterally supports, the retaining wall of rip raps keeps the soil in place and prevents it from getting exposed to conditions that otherwise can be damaging to it.
5. A Tall Rip Rap Retaining Wall Next to a Raised Paver Patio is One of the Most Interesting Things Ever
The thing that makes this rip rap retaining wall one of the most exciting things ever is the fact that it's really tall, and it doesn't support the soil that's level with the raised paver patio next to it.
Instead, the tall rip rap wall supports the soil that's on a much higher position than the ground the patio is on. While it's there as a retaining wall for the soil, it looks as if it's there to guard the patio as well due to its imposing height.
Made of boulders, the retaining wall offers natural drainage. Unfortunately, many types of residential retaining walls fail because of poor drainage. However, a boulder retaining wall can make sure that excess water drains through it.
Furthermore, the great weight of the boulders enables them to tolerate earth movements in massive amounts without transmitting them through the wall, making them brilliant choices of materials for a retaining wall.
6. A Built-in Stairway Improves the Functionality of a Limestone Rip Rap Retaining Wall in Front of a Traditional House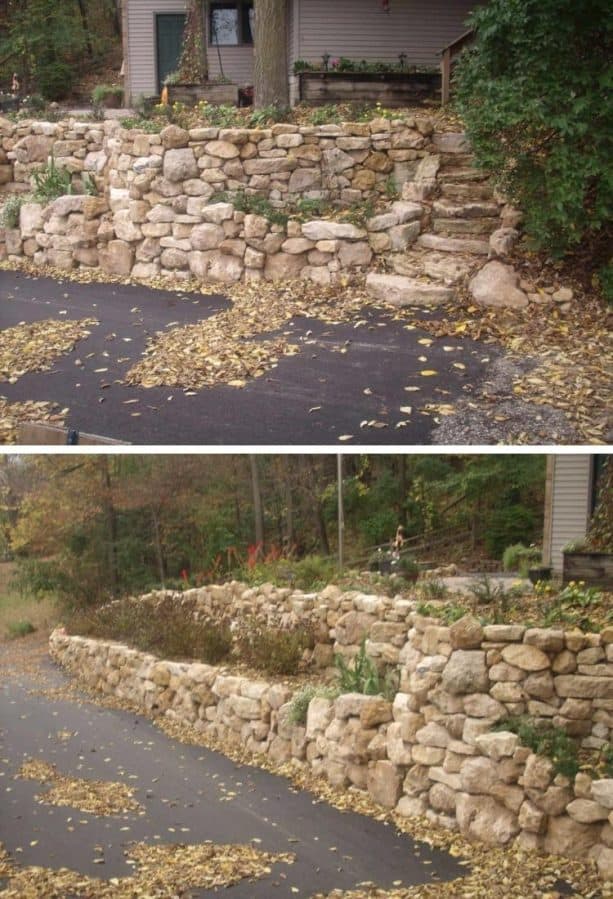 Supporting two levels of soil where small flowers and plants that help protect it grow, this limestone rip rap retaining wall is there to cover nearly the entire width of the exterior, it's a part of.
The built-in stairway in the middle of the wall improves its functionality as, thanks to the stairway, the wall isn't just there to guard the soil but to give alternative access to the main house.
Built using limestone, the retaining wall needs minimum maintenance since you don't need to have it waterproofed or paint it. You can use it as it is and let it be there once the rip rap installation is complete.
The stone is very sturdy, and it will stay there for many years, even with minimum maintenance.
The fact that limestone is so plentiful makes it an affordable choice of a rip rap material. It can even be as affordable as clay bricks.
Used in front of a traditional house, this retaining wall suits the style of the property perfectly, being made of raw materials and all.
7. A Rip Rap Retaining Wall with Granite Steps on a Lakeside Blends Function and Beauty
Built on a lakeside, this rip rap retaining wall is eager to protect the soil it's tasked to restrain from erosion. Had the wall not been there, the soil would be directly exposed to water, massively increasing erosion risks.
While the retaining wall offers functional benefits, the granite steps provide beauty to the outdoor space in addition to delivering lakeside access to anyone who'd love to spend time at the lake.
The combination of a rip rap wall and granite steps effectively blend function and beauty while successfully protecting the lakeside area with a collection of naturalized, buffer plantings.
Constituting a linear strip of vegetation, either purposefully planted or retained in the vicinity, the buffer plantings work together with the rip rap wall and steps to preserve the best condition of the soil on the ground of a mid-sized contemporary exterior.
8. When Rip Rap Retaining Walls Lead the Way to a Backyard Stone Patio
A backyard stone patio in the open is an excellent area of interest by itself, but it can still get even more enjoyable with the help of intact boulder rip rap retaining walls sandwiching a stairway leading to the patio.
Rip rap retaining walls aren't just there to prevent erosion since they're also ideal for creating mesmerizing garden beds. In the case of these walls, they create a stage for a mini garden full of bright red flowers to showcase their extreme beauty.
A large number of plant enthusiasts agree that rock retaining walls are attractive additions that can beautify properties, as evidenced by these rip rap walls that provide access to a mid-sized backyard stone patio with no covers.
Contrasting heavily against the bright red flowers above but superbly matching the color of the slab stone floor of the patio, the rip rap walls contribute to prettifying the landscape.
9. Boulder Rip Rap Retaining Walls Offering Panoramic Views of a Lake
Offering panoramic views of a lake is something that these boulder rip rap retaining walls can easily do.
Before the construction of the rip rap walls, the lot was overgrown, resulting in obstructed views of the lake.
Now offering clear, panoramic views of the lake, the retaining walls help decorate the lot thanks to their incredibly organized designs.
They support various layers of soil, including one that would otherwise be exposed to the lake water should a rip rap wall not be built there.
Together with the sloping field of grass at the large modern backyard, the retaining walls create an excellent spot for enjoying views of the lake, an area that gives you the illusion that you're enjoying your time in the wild nature because it looks so natural.
It helps that the furniture pieces used on the surface of the ground above one of the rip rap walls are simple white chairs surrounding a table.
They don't disrupt the natural look created by the retaining walls and grass field, allowing anyone to enjoy the panoramic views of the lake while feeling as if they're out there in nature.
10. A Beach-Style Backyard Deserves to at Least Get a Rip Rap Retaining Wall
It's normal for a beach-style backyard to deal with a lot of water, thus, justifying the installation of a rip rap retaining wall in the outdoor space.
A rip rap wall is the least a backyard of this kind deserves to get because it's a wall that can protect it from storm surges or other damaging weather conditions.
Many say that a rip rap wall is cheaper compared to a standard sea wall, but the fact that it's more cost-effective isn't the only thing that makes it a good choice.
After all, a rip rap retaining wall is better at improving the aesthetic beauty of a beach-style backyard.
A rip rap wall is more natural-looking compared to, let's say, a steel sea wall. As a result, it blends more naturally into the environment with the individual rocks that add a natural look that suits and beautifies the outdoor space.
Being a natural addition to a backyard instead of a standard sea wall that might not naturally complement the scheme of the space, this rip rap retaining wall increases the value of the property.
Again, it's the least a beach-style backyard deserves to get.
11. A Rip Rap Retaining Wall is a Brilliant Addition to a Backyard with a Water Feature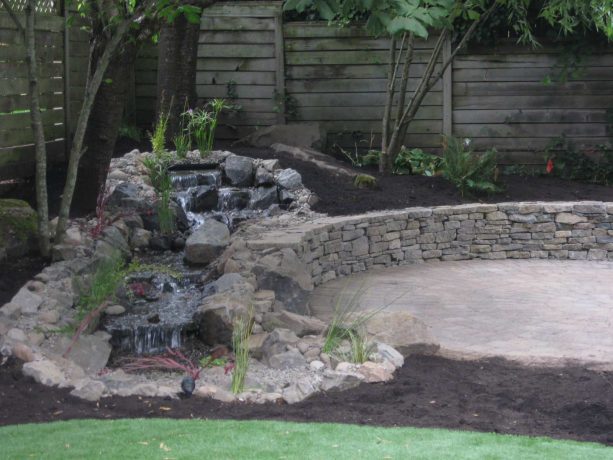 Typically built to prevent soil erosion, a rip rap retaining wall is a brilliant addition to a space that deals with lots of water. This rip rap wall in a backyard with a water feature makes it evident.
Built very close to an area with a water stream that seems to always disappear into the ground, the rip rap wall firmly stays in place as if it's challenging all the water to erode the soil it keeps in place.
Removing the grass and installing artificial turf on the backyard the rip rap wall is a part of for easier maintenance has nothing to do with making the retaining wall's job any easier since it has to protect a separate area full of soil from erosion.
Luckily, the rip rap wall is good enough for the job, and it remains a fitting and brilliant addition to the landscaped backyard with an ever-circulating water feature.
12. Every Craftsman Exterior Loves a Rip Rap Retaining Wall
The turf of this exterior belonging to a large gray two-story concrete fiberboard home directly touch the water of a lake, calling for the installation of a rip rap retaining wall to protect the turf's soil.
As such, a neatly organized rip rap wall was built along the lakeside of the craftsman home, keeping the ground and subsequently the house itself safe from the damaging effects the lake water can bring.
The house now has panoramic views of the lake beyond to offer to those spending time at its lakeside exterior. The rip rap retaining wall is something that the craftsman exterior definitely loves.
Many know that craftsman houses love certain materials such as bricks, stucco, wood, and stones. The craftsman style is for people who love natural styles of houses that are not too ornate.
At this exterior, the rip rap wall fits the criteria, making it the kind of wall the craftsman house has a deep affection for.
13. A Rip Rap Retaining Wall of a Massive Size is What a Big Transitional Exterior Needs
The massive size of this rip rap retaining wall makes it the kind of wall that the big transitional exterior it's a part of needs in order to keep its area protected from the danger of surging water.
Comprising of mostly grey rocks, the rip rap wall is perfect for the transitional house, the kind of property that's always in love with neutral colors like taupe, cream, black, and grays.
Mimicking the size of the super-wide outer area that belongs to a two-story stucco exterior home, the wall is a better option for the property. Had the wall been built using concrete, the end results would have looked less attractive.
14. A Classic Home with Rain Gardens Benefits a Lot from the Creation of a Rip Rap Retaining Wall
This lakeshore property is a classic home with a steep bank to the water that benefits greatly from the creation of a rip rap retaining wall comprising of raw rocks on the very edge of its exterior.
Rain gardens are important parts of the property, and the existence of the rip rap wall makes sure that these gardens can safely allow plants to grow on them without having to be exposed to danger.
The creation of the retaining wall makes it easier to garden on the terraced slope, as evidenced by the first 35 feet from the lakeshore, which becomes a safe place for native plants to live and grow.
There are two rain gardens at the upper corners that catch the water needed for the plants.
The rip rap retaining wall stabilizes all the soil on the terraced slope, keeping it in place to make sure that gardening never becomes an inappropriate activity at the classic residence.
15. Siloam Rock Rip Rap Retaining Walls Create Level Areas on a Sloped Property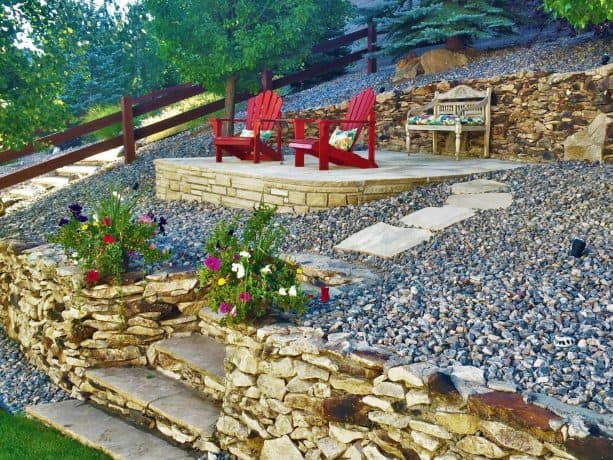 These Siloam rip rap retaining walls were stacked in a way that helps give the sloped property they're on a rustic look and feel.
Siloam, the stone used to build the walls, is a quartzitic sandstone that boasts excellent freeze/ thaw characteristics and load-bearing strength.
Although it was suggested not to use sandstone to build a rip rap wall, using Siloam at an ordinarily dry area causes almost no problems. It helps that Siloam is a durable and long-lasting stone as well.
Built on a sloped area, the walls contribute significantly to creating level areas on the property.
Thanks to the rip rap walls, the areas that were not useful previously could be turned into more functional spaces, including a stone seating area with flashy red chairs.
Simple yet firmly built, the Siloam rip rap walls help stabilize the ground on the heavily sloping landscape.
Making it easier to occupy the level areas that would otherwise just become barren sloping areas should the walls not be built there.
16. A Decorative Rip Rap Retaining Wall for a Contemporary Patio
Decorative in nature, this exposed aggregate rip rap retaining wall is a part of a contemporary patio that gives the outdoor space a unique look.
Instead of keeping exposed soil in place, Hopseed bush grows on its aggregate-comprised surface.
This rip rap wall is durable, as anything made of aggregates is, and it can survive harsh weather conditions for many years. It makes it a lot better than aggregate rip rap walls like this one that need little to no maintenance whatsoever.
Better yet, this rip rap wall also suits the contemporary style of the patio because the contemporary style is often associated with unique looks and feels.
It's not a hard thing to conclude that this rip rap retaining wall is one that looks and feels fantastic, making it a magnificent addition to the contemporary space.
17. A Large Rip Rap Retaining Wall on a Bank is Better Than a Concrete One of the Same Size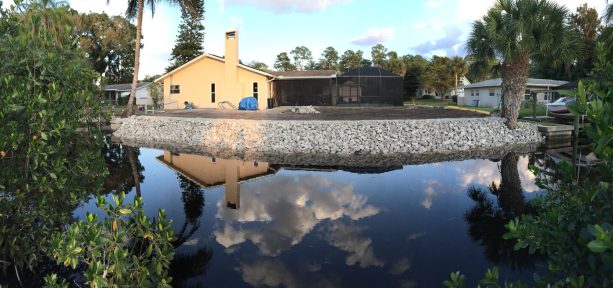 When it comes to stabilizing the ground of a quite large bank, it's better to build a large rip rap retaining wall than building a fully concrete wall that's supposed to offer the same functions.
Many engineers choose to build rock rip rap retaining walls overbuilding fully concrete ones. The reason is that issues can be identified and repaired more easily with rock rip rap walls.
When a concrete retaining wall with a wide and massive size starts causing problems, it's harder to pinpoint which spot to fix because of the thick, hard, and virtually permanent surface.
That's not a problem with a rock rip rap wall like the one belonging to this property.
The fact that rocks look more natural than concrete is a benefit as well. Additionally, despite the fact that a rock rip rap wall requires more careful design, the end results usually look more unique and exciting.
Closing
Having learned about the various ways to build rip rap retaining walls, it's about time you find out about the good things you can get from building such walls.
It goes without saying that these walls help stabilize areas that have high rates of erosion, protecting the whole property in the process.
A rip rap retaining wall is straightforward to maintain as well. It's also easier to repair this kind of wall than fixing some other types of retaining wall.
The way stones, rocks, or other materials are organized to form a rip rap wall makes it more convenient to sniff out trouble.
Usually long-lasting and eco-friendly, a rip rap wall is a safer option for virtually any property as well. Many people agree that this kind of wall enhances the value of a property, too, and that's another good thing about a wall of this type.
There are many positives to get from building a rip rap retaining wall.