A corner lot is an excellent object of landscaping that can add extra privacy without creating an eyesore for neighbors.
With a lot of space exposed to oncoming traffic, a corner lot can offer space for a garden or a living area, among others.
A lot of sunlight is something that this kind of outdoor space offers in addition to a strategic spot at the very nexus of a neighborhood. What it takes is simply the will to endure the extra landscaping.
Here are some tips for you if you've got plans to conduct corner lot landscaping at your residence:
a. Create a Vignette
One of the uncomplicated and budget-friendly ways to do corner lot landscaping is by creating a vignette, which is a small collection of shrubs, trees, and probably some perennial plants.
With a vignette, a corner lot would look less awkwardly shaped. If designed well, a vignette can add privacy as well.
b. Add a Seating Area with a Fence
Adding landscaping plants is a brilliant idea, but creating a seating area is yet another excellent thing to do.
Building a fence around a corner lot and adding a seating space with some chairs or perhaps a bench and a table inside the fence helps turn the outdoor space into a focal point.
c. Build a Rock Garden
Rock gardens are perfect for creating a dramatic look at a corner lot because they attract much attention. Neste some perennials or evergreens into a rock garden, and you'll have a low-maintenance yet appealing corner lot.
Here's a list of 14 landscaped corner lots you can get inspired by if you don't want your corner lot to be left untreated.
From one that gets a low wooden fence to a seating area with Sunbrella to one with palm trees in a pot, there are many corner lots to be inspired by. Savor the ideas.
1. A Low Wooden Fence Protecting a Grass Yard with a Tree in the Center Makes for an Unadorned yet Stunning Corner Lot Landscaping Idea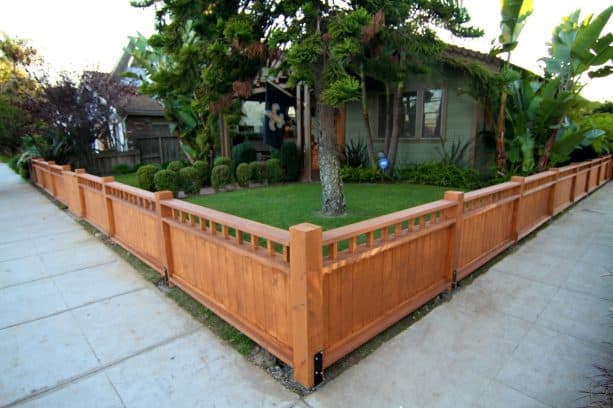 Low but thick and made of wood, the fence protecting the grass yard in front of this craftsman residence looks so solid.
The brown and green contrast between the fence and the grass yard inside it looks so natural, beautiful, and enchanting all at the same time.
It's adorable that the fence strictly follows the line drawn by the intersecting roads that create a space for the corner lot it guards.
The grass covering the corner lot takes up quite a wide area, although not the widest area for an outdoor living space.
Growing in the center of the yard is a tree that becomes the focal point of the lot.
While totally unadorned, the grass yard, tree, and wooden fence look quite stunning, proving that the term beauty in simplicity isn't a myth after all.
Uncomplicated yet effective is the phrase that best describes the landscaping done to this craftsman corner lot.
2. It's a Unique Landscaping Idea to Construct a Corner Lot with a Retaining Wall and Three Large Stone Columns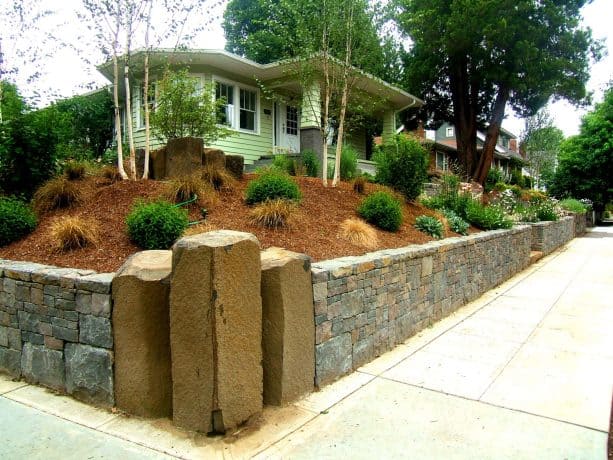 Unique is the word that describes this landscaped corner lot quite excellently.
The retaining walls of the outdoor space are like the frames that showcase the elevated landscape with slim trees and what appear to be shrubs growing on exposed brown soil.
Natural is the look created by the raw stone retaining walls and the area inside it, a look that makes it look like the corner lot is a part of nature itself.
It's thanks to how every material is used as they are, with little to no modifications from how they looked as they were salvaged from nature.
Despite being elevated to be exponentially higher than the roads at the intersection, the corner lot itself isn't on a higher position than the main house, which can be reached via stairs built in an area that cuts the flow of the retaining walls.
Occupying the corner of the lot are three large stone columns that take the space on the corner where the retaining walls are supposed to meet.
The massive sizes of the perpendicular stones quickly grab attention and become focal points of the corner lot.
3. A Drought-Tolerant Corner Lot Landscaping Idea for a Craftsman Residence
The shrubs and grass used at this corner lot make it a very low-maintenance outdoor space. The addition of stone and pebbles helps the landscaping of the area, making it look even more natural.
Designed to be drought-tolerant, the corner lot is where plants that adapt extremely well to dry conditions. Surviving even the driest conditions isn't a big problem for these plants, and that's what makes them so easy to maintain.
With no fences built to guard it, the lot gets a lot of exposure, and as a result, it gets lots of compliments from people that walk by.
It's all thanks to the organization of the grass, shrubs, stones, and pebbles, which makes the landscaped corner lot look like a natural outdoor space.
Because craftsman house exteriors usually emphasize harmony with their surrounding nature, this landscaped corner lot is unquestionably one that suits the craftsman residence it's a big part of.
4. An Idea That Sees a Corner Lot Landscaped into a Large Seating Area with Sunbrella
The landscaping done to this large corner lot is one fitting for its size.
Protected by a fence with stone posts, the outdoor living area is lush with grass inside. The flowers in pots separating the grass yard from its seating area beautify the space significantly.
With a pair of armchairs and a matching table accompanied by a couch, the large brick-floored seating area is connected to brick stairs that lead the way to the main home, providing ease of access.
Easily housing all of the aforementioned furniture pieces plus two side tables and still having a lot of additional space available, the size of the seating area is certainly really big.
A pair of Sunbrella is readily there to provide shade whenever the weather feels too hot to handle.
A collection of shrubs separates the area inside the fence from the unsafe territory marked by the open street outside the fence.
A walkway outside the area with shrubs further helps ensure that exposure to danger is never a problem for anyone spending time at the corner lot living area.
5. Mediterranean Corner Lot Landscaping Idea with Stone Fence Posts
Flowers and shrubs decorate the outer part of this landscaped corner lot, preventing its main area inside the fence from directly touching the street outside.
Likewise, the area inside is where beautiful flowers and shrubs can be found, whereas the primary lot is lush with grass.
Protecting the area inside is a metal fence with stone fence posts, which seemingly have brick and concrete tops and are quite big in measurements, making them look imposing due to their sizes.
Primarily made of stones, these fences are stable and durable, and unlike wooden fences, they don't ever rot, no matter the conditions.
These stone fence posts are appropriate additions to a Mediterranean corner lot since stone details are among Mediterranean homes' common features.
Forces of nature aren't a problem with these fences as they're practically immune to them. Wind, snow, sleet, rain, or even summer heat poses little to no harm on these fences, making them very reliable protective gates.
6. A Corner Lot Landscaping Idea Involving the Creation of a Berm and Evergreen Screening Plants
The creation of a berm on a corner lot is a beneficial act as it makes the area look naturally beautiful with the beauty of lush grass gracing its surface at all times.
The berm on this corner lot was created due to the excessive amount of water from the street.
Headlights from cars passing by also proved a problem, so evergreen screening plants were densely planted on the berm, solving the problem. The berm helps redirect water around the main house and elevate the plant materials at the same time.
While good drainage is a guaranteed benefit of creating a berm, it's noteworthy that a berm helps provide interest to a landscaped corner lot as well, as evidenced by the attention-grabbing one this corner lot has.
On the other hand, the screening plants help provide privacy, increase plant diversity, reduce noise, and screen elements that otherwise are unsightly, all while enhancing energy conservation.
7. A Landscaping Idea That Allows a Corner Lot to Have Lots of Grass and a Walkway with No Fences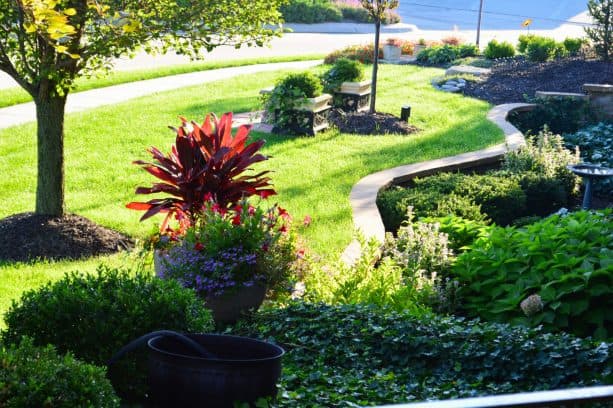 A vast field of grass is a gorgeous addition to a corner lot. They're in a color that's the easiest to perceive by the human eyes, and they provide interest to the lot while adding a classy look to the area.
The addition of trees to the corner lot improves the appearance of the area because trees, being more visually complex than grass, are more likely to draw interest and grab attention.
The vast field of grass at this corner lot is identical to the much smaller area with grass that touches the street.
Separating the two is a walkway that makes the landscaped corner lot look more organized and clearer to see, all while replacing the function of fences as borders that separate the lot from the street outside.
Walkways are inviting as they tempt one to follow their paths, and at the same time, they help create focal points in landscaped areas. The simple yet well-built walkway this corner lot has is proof of this very fact.
8. Palm Trees in a Pot Make an Unflashy yet Very Interesting Corner Lot Landscaping Idea
Palm trees in a pot sure aren't the flashiest things a corner lot can get, but they certainly look exciting despite their unflashy appearance.
Making effective use of the limited space available on the ground, looking unique because of the way they're planted on a small pot despite their quite big sizes.
Trees planted directly to the ground are relatively permanent, but ones grown in a pot aren't, and they can even move with you should the time come to live at another house.
Trees planted this way also helps you maintain the size of the area you dedicate to growing them. They won't go beyond the limit you've set.
Grass and gravel take up the space around the pot in which the palm trees grow, giving the space a gorgeously natural look. One of the best things about gravel is the fact that it improves drainage when appropriately arranged on the ground.
It's noteworthy that gravel allows water to easily pass through it and seep into the soil, effectively providing better drainage compared to, let's say, concrete or stone. It's a brilliant choice of material for a corner lot.
9. A Landscaping Idea That Incorporates Lots of Flowers and Mini Trees into a Corner Lot Isn't One to be Made Fun Of
Aesthetics is what this landscaped corner lot easily offers as it has lots of beautiful flowers planted on its perimeter.
Ranging from bright red to pink to light purple in color, the beautiful plants increase the outdoor space's landscaping appeal quite significantly while enhancing the homeowners' emotional well-being.
Allowing the homeowners to exercise and stay healthy by gardening is something that these flowers can easily do in addition to becoming focal points of the corner lot.
Also growing on the soil of the landscaped corner lot are mini trees, which help absorb rainwater on top of improving the aesthetics of the space. These small trees prevent the area from flooding or simply getting too wet.
During bad weather days, the trees' leaves slow down the path of the rain, helping prevent soil erosion. They're not just there for the looks since they exist to protect the landscape as well.
10. A Landscaping Idea That Turns a Corner Lot into a Formal Garden
A landscaping idea that turns a corner lot into a formal garden is an excellent idea for a homeowner who loves order and balance more than anything because formal garden designs are all about these two things.
Experts say that a formal garden is impeccable, geometrical, and majestic, which means that it looks attractive on top of embodying order and balance.
It's due to the fact that the normal formal garden usually has well-defined paths and pruned plants, which contribute to creating the formal atmosphere of the garden.
The variety of plants grown in a formal garden is usually limited, so the plants can be maintained more easily in ideal conditions.
A corner lot is an ideal space for a formal garden because this kind of garden is perfect for small plots since it creates the impression of space and effectively adds grandeur to the main house.
11. The Landscaping Idea a Traditional Corner Lot Needs is One Involving Trees Grown on Soil with Leaf Litter
A tree with purple leaves is, without doubt, appealing addition to this traditional landscaped corner lot, but it won't become the only such thing.
Exposed soil covered by leaf litters around the tree makes the space look exponentially more mesmerizing, especially if there is more than one spot with trees on soil with leaf litters in the area.
An important component of healthy soil, leaf litter, keeps the soil moist and releases nutrients into it aside from adding aesthetics and suiting the traditional style of the outdoor space.
Enriching the soil and improving its fertility by simply decomposing reducing the need to fertilize the soil, are things that these litters easily and naturally do.
With a grass field all around the trees on soil with litter, this landscaped corner lot looks so alive.
The use of a wooden fence to cover the space was an appropriate decision because it keeps the natural soul of the traditional outdoor space.
Made of wood, the fence costs less than fences made of aluminum, vinyl, or wrought iron, and it can be shaped into practically any form because it's so easy to work with. When appropriately treated, it can also stand up to the elements extremely well.
12. The Addition of Topiary Plants and a Paver to a Corner Lot is a Landscaping Idea That's Uncomplicated yet Very Aesthetic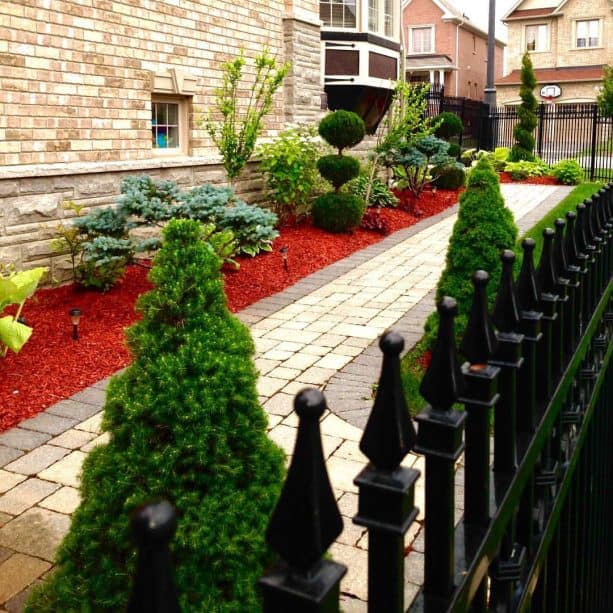 Despite being uncomplicated, this landscaped space looks very aesthetic thanks to the topiary plants grown near the main house's wall and the small pine trees grown on the corner lot perimeter, which is guarded by durable, reliable, affordable, easy to install, and aesthetically pleasing metal fences.
The paver built in the area inside the fence is an aesthetic addition because its light color contrasts beautifully with the green leaves of the pine trees and the red soil on which topiary plants grow near the wall of the main house.
Coming in varying shapes, the topiary plants add aesthetics to the landscape, giving the outdoor area creative looks that inevitably grab the attention of many people passing by the property.
With aesthetics comes value as topiary plants are known to increase the value of the properties they're grown at. The fact that they're good for the environment is just a lovely bonus.
13. A Landscaping Idea Involving the Use of Artificial Grass and Two Big Trees Brings Beauty and Practicality to a Corner Lot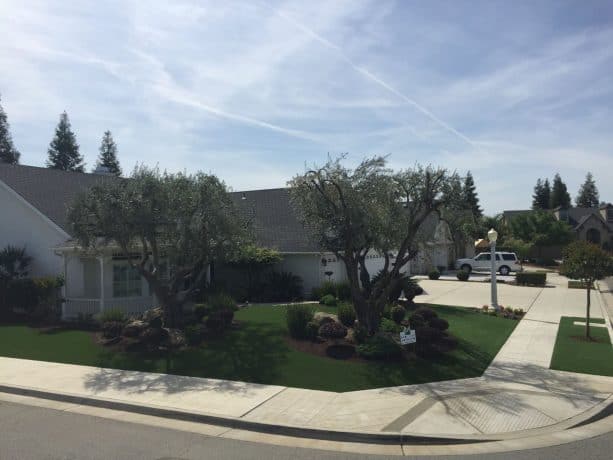 Beauty is a guarantee whenever artificial grass is in use because this type of grass looks attractive all year long as it doesn't turn brown during the summer or make the soil look muddy during the winter.
Artificial grass offers great practicality as well since no watering, mowing, or trimming are needed with this kind of grass. While not natural, it prevents the use of pesticides or fertilizers, which can be pretty harmful to the environment.
Growing in the corner lot where the artificial grass is used are two big trees that become the focal points of the space due to their massive size. Very big in size, these trees have a strong root system that can help prevent erosion.
By absorbing the water that might runoff if let be, the trees hold the soil beneath it in place and shelter it from the natural elements. This landscaped corner lot has a package full of beauty, practicality, and functionality that many homeowners dream of.
14. An Idea That Creates a Landscaped Corner Lot with a Desert Museum Palo Verde Tree and a Proper Garden is One That Suits a Large Space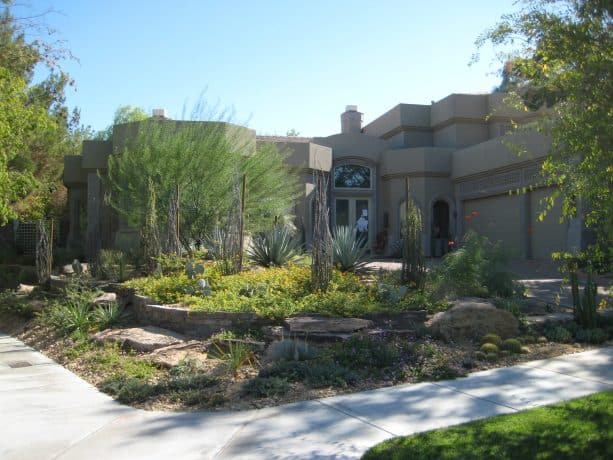 With a large corner lot, comes more freedom to do landscaping on it, and when such freedom is seized and made good use of, the result can be as stunning as this corner lot garden.
The absence of a fence helps showcase the beauty of this proper garden instead of making it look unattractive.
Lots of rocks are used in this garden, with some getting arranged to form walls to protect flowers and other plants inside it.
These rocks are very easy to maintain as one barely has to do maintenance on them. The incredibly low-maintenance nature of the rocks helps the homeowners save money tremendously and on an ongoing basis.
Longevity is a guarantee with these rocks, and when used properly, they can help improve drainage, preventing the corner lot from getting too wet or even flooded with water when the weather's not too friendly.
The many plants grown on the soil of this corner lot help bring life to the outdoor space, and the most notable one among them is the green tree in the middle left called the Desert Museum Palo Verde, which is quite big in size and suits the large space.
The corner lot would look barren and uninteresting without the existence of these plants.
Closing
Now that you've discovered that a corner lot can be turned into various different types of outdoor spaces, it's time to note what the essential things to do before landscaping your corner lot.
First, it's vital that you know your corner lot and how you'll be using it after you landscape it.
If you can help it, try to make sure that your plants can do the work for you. Whether it is to prevent erosion or simply to improve the aesthetics of your corner lot, make sure you choose the right plants to grow on it.
Consider structuring your plantings as well. Making your plants look organized increases both the aesthetics and value of your corner lot.
It's really important to pay attention to details because it can be what determines whether your landscaped space is an eye-pleasing one or not.
Before starting landscaping your lot, it's vital to know your allocated budget as well. Knowing your budget enables you to make wiser decisions related to what to incorporate into your landscaping design.
Your maintenance style should also be a consideration because learning about it helps you make better choices of plants or materials to use in your outdoor area.
With that said, we hope you have a lot of fun landscaping your corner lot.