One of the best things you can do to concrete steps is covering them with stone veneers. Doing so will turn your steps into ones that look stunning. It'll also add a natural stone look that will make your steps appear charming.
These are things you might need to note if you want to know how to veneer your concrete steps:
First of all, you should remove the railings from your steps if there are some on them. Ten smooth the surface of your concrete steps using a masonry wheel grinder. The purpose is to smooth out rough edges or perhaps some bumps on the steps' surfaces. Don't forget to wear your safety goggles and gloves the whole time.
The next thing you should do is removing dirt and debris from your concrete steps' surfaces. You can use a power washer for this purpose. Then allow your concrete steps to dry.
After the steps have dried, you can scrub their surfaces using an acid cleaner. Continue by rinsing the concrete thoroughly. Why? Because you have to remove the acid cleaner. Don't forget to allow them to dry after.
The next step is cutting the pieces of stone veneers. The purpose is to make them fit along the steps. You can use a hammer and a chisel for this purpose. By the way, do you know what risers are? They're the front edges of your concrete steps. You should do something about them during the installation process, as well.
Once you've completed the previous steps, you can mix a batch of mortar with a ratio of 1 part of Portland cement, 2 parts of washed sand, and water. Mix them until the mixture has the consistency of, let's say, mashed potatoes.
Next, you can spread your mortar onto the front part of your bottom riser. Use a trowel to do that. Then cover an area which is slightly wider than your stone veneer piece. Then press your stone into your mortar. Don't forget to check them for level.
Keep installing your stones along your risers until your steps are complete. If the stones are not in uniform sizes, you might need to try different stones or trim them using a hammer and a chisel just to allow them to fit. Make sure you keep a uniform gap between one stone and the next as well. Also, make sure that you allow your mortar to cure for the specific time mentioned on the packaging.
Continue by spreading your mortar on top of your first stair tread using a trowel. Note that the tread is the part of your steps you usually step on. Then place your first stone veneer piece into your mortar. Firmly press it into your mortar and don't forget to check it for level. Then you can install the other stone veneers on top of your stair treads. Again, make sure you keep a uniform gap between one stone and the next one. Also, always make sure that the mortar cures for the specific time mentioned on the packaging.
Lastly, use a grout bag to apply grout to the joints between your veneer pieces. Then smooth the surfaces of sad grout using a joint tool. Continue by wiping off excess grout using a damp sponge. Make sure you allow the grout to perfectly dry for the time that has been specified by the manufacturer.
Now that you've learned how to veneer your concrete steps, it's time for you to get some inspirations from some charming concrete steps with stone veneer covering.
We've collected a number of such steps for you to get ideas and inspirations from. Find some of the most charming concrete steps with stone veneer covering below!
1. Thin Stone Veneer Stair Covering for a Beautiful and Welcoming House
There are many ways to turn the front exterior of a house into a beautiful and welcoming space.
One of them is using stone veneer covering on your concrete steps.
This house in Boston can teach you one trick or two if you want to apply stone veneer covering on your steps.
What we like the most about this stone veneer covering is its thinness. It's really thin and it's beautiful.
The veneer used on the stairs of this house's exterior are Natural Thin Stone Veneer. It's from Fieldstone Veneer, Inc. Looks beautiful, doesn't it?
2. Stone Veneer Covering with Realistic Looks Create the Best Effects Possible
Since stone veneers are meant to turn steps into ones that look like they're made of stones, it's important to choose ones that offer realistic looks. It's all the more so if the stairs you're trying to build are ones that will be parts of a traditional house.
If you've decided on getting some realistic-looking veneers, you can get some inspirations on how to install them from this traditional house in New York.
The traditional steps in the picture above are stone veneered beautifully.
Bluestone treads, landings, and sides were added to the steps. They help frame the stone veneer covering and make the stairs look as beautiful and realistic as they are.
The touch that we really like is the addition of a pot of flowers to one of the steps. It helps create a statement that the steps are meant to be ones that look realistically natural, having realistic stone veneers, flowers and all. Just amazing!
3. Concrete and Stone Veneer Covering Go Hand in Hand with Bluestone
Speaking of concrete stairs and stone veneers, there's something that is frequently there as well when the two are present. It's bluestone! It's one of the things that's often combined with concrete and stone veneers, as shown by this house in Bridgeport.
The exterior of this house sports a really cool set of steps with stone veneers. The steps themselves are precast concrete steps. They are stone veneered and then saw bluestone added to them.
The steps now have bluestone landings and treads. They look great and they really suit the house's traditional style. They're quite simple but look nice nevertheless.
4. Elegant Stone Veneer Covering for Mediterranean Concrete Steps
Stone veneer covering can help make concrete steps look elegant. It's located in San Diego and it's so earthy in color.
The earthy color helps give the stone veneer covering look rustic, effectively adding a rustic look to the stairway in the process.
The stairway itself is a winding stairway and it looks really classy. It's a Mediterranean staircase and was part of a remodel project done to the house it's a part of.
The elegant earthy-looking stone veneer covering combines with stone walls to give the house they are parts of a touch of elegance.
To create a similar staircase, you can simple use stone veneer covering in earthy colors on your concrete steps.
If you can help it, make sure that your veneer covering is well organized because that way, your steps will look even more elegant. Try it!
5. The Bigger the Stone Covering on the Concrete Steps, the Better It Looks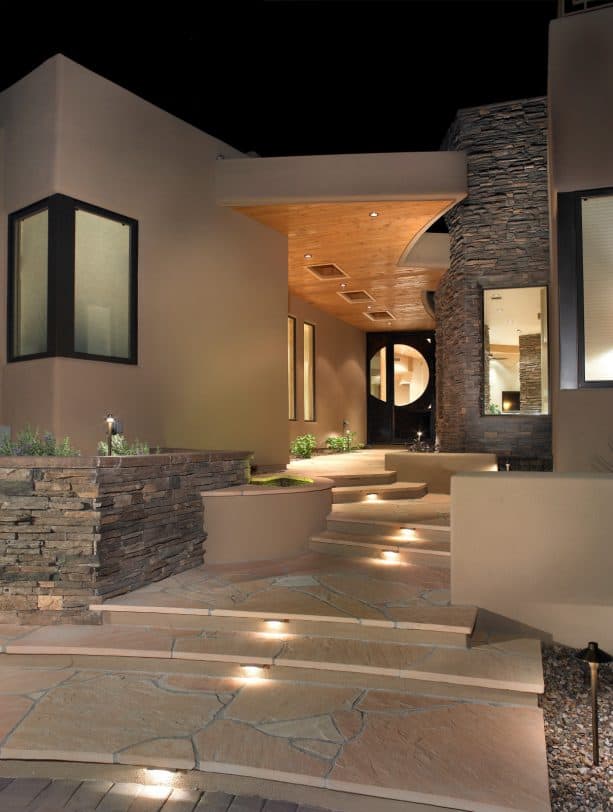 When it comes to installing stone veneers on concrete steps, the bigger the veneers the better the steps look.
This house in Phoenix can show you why. It has an exterior with lovely steps with big stone veneers, which obviously look incredible.
The color of the house's exterior is Dunn Edwards – Mesa Tan. It's a really down-to-earth color that can easily captivate the eyes of its beholders. Try this color if you want your house's exterior to look as fabulous as this one does.
Please note that there a massive benefit that you can get from using stone veneers in bigger sizes. They're easier to install because you don't need to take too much time to pay attention to details when installing them. Nice, isn't it?
6. Sleek Stone Veneer Covering Gives Concrete Steps a Clean and Fabulous Look
If cleanliness is something you prioritize over anything else, you should take a peek at this contemporary exterior in San Francisco.
What can you see from the beautiful space? Well, there are a lot of beautiful things to see, obviously. However, those clean-looking steps must have caught your attention!
The steps are parts of a terrace backyard and they don't have any trouble fitting in. The steps, with sleek tone covering on them, easily give the backyard a fabulous look.
In addition, they also steal the spotlight because they look quite different from their surroundings, making them easily visible. Cool!
7. More Natural-looking Stone Veneer Covering is Better for Outdoor Areas
Planning on building a garden outside your house?
What kind of garden do you want to build?
If a stone garden is what you're trying to build, you can copy one or two ideas used by the designed of this garden. It's a majestic garden, which is a part of a country residence in San Luis Obispo.
This stone garden has beautiful natural-looking steps. You can easily guess that the steps are concrete ones and stone veneer covering has been applied on them. The results are incredible.
The natural looking steps really bring the garden closer to the nature. The addition of ornamental grass called the Leymus condensatus 'Canyon Prince' to an area next to the steps just make it better. The garden now looks so naturally beautiful.
8. Thick Stone Veneer Covering is also a Brilliant Options for Concrete Steps
Depending on how you apply them, stone veneers can make your steps look better or worse than they did before. In other words, it doesn't matter if you use thin or thick veneers if you know how to use it properly.
This house in DC Metro can help you learn how to use thicker stone veneers and make it look incredible on concrete steps.
This house's exterior saw the addition of step risers, which were constructed using the help of EP Henry Cast Veneer stone wall. Don't forget that the task was also possible only with the help of a Pennsylvania tread stock, which is 2″ thick. The results?
As you can see, the thick stone veneers make the steps look like real stones. They contrast the color of the patio in front of them. The patio itself has a concrete paver and sure benefits from the existence of the steps. They really highlight each other's beauty and give the space a pretty look. Brilliant!
9. Pavers, Bluestone, and Stone Veneer Covering are Usually Parts of the Same Gang
Your front porch deserves all of the beauty in the world and you can give it what it deserves in various different ways.
One of them is by giving it a combination of a concrete paver and beautiful stone veneer covering. Will it be hard to do so? Well, it most likely will not be!
Just get some inspirations from this front porch in New York. This front porch has a concrete paver that make the area look sleek and clean. The front porch also has a set of steps that match the paver quite perfectly.
The steps have stone veneers covering them and the veneers stand out quite much. They also have bluestone on them, whose color matches the color of the paver perfectly. Amazing, isn't it? This front porch is what you should use as a source of inspirations if you have a traditional porch with concrete steps.
10. Create a Cohesive Look by Using Stone Veneer on the Risers on Your Stairs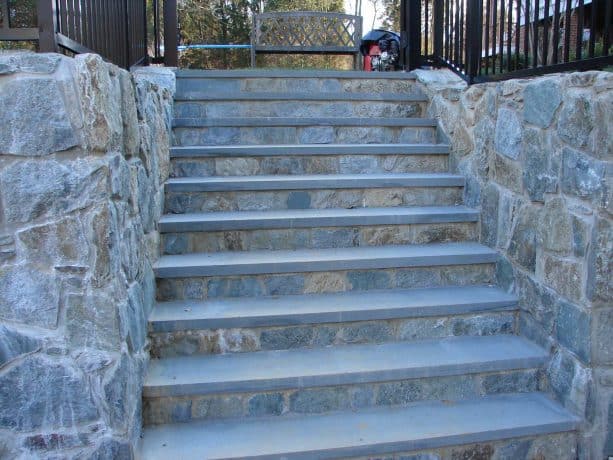 Do you have any plans to build a tall set of concrete steps? Then you should take some examples from this beautiful landscape in DC Metro. It has a set of stairs with natural stone veneers. They look real, don't they?
Since the stairs are quite tall, they're accompanied by concrete walls. These concrete walls have stone veneers on them as well. Note that the risers on the stairs have stone veneer covering on them, too.
The step treads on these steps are Pennsylvania bluestone. Designed and installed by Merrifield Garden Center, these steps are absolutely amazing. They're what you should refer to when trying to build tall concrete steps with stone veneer covering.
11. Ledgestone Thin Veneer Covering is Perfect for a Traditional House with Concrete Steps
It's amazing to know that there are so many things you can do when you try to combine stone veneer covering and concrete steps. Also, the fact that there are so many options of stone veneers out there makes it a lot better. One of the best you can get is ledgestone. It's awesome and it's really sturdy.
If you want to apply ledgestone veneer covering on your concrete steps, we suggest that you use thin veneers instead of thick ones. Thin ones look better and this house in DC Metro can show you why. Just look at those perfect steps. These tall steps are undeniably fabulous and on top of that, they look like natural stone steps.
In this house's exterior, stone veneers aren't present only on the steps. After all, they're also used for the stair risers. They help create a really cohesive look that the exterior can boast.
For your information, the step treads added to the steps are Pennsylvania bluestone. Designed and installed by Merrifield Garden Center, the steps and risers are undoubtedly very eye-catching. Just marvelous!
Closing
Concrete steps and stone veneers, more often than not, go hand in hand. It's because they look so good together. Combining them to beautify parts of your residence can benefit you a lot. After all, they can help you add really awesome looks to various areas where your steps are at your house.
Concrete steps with stone veneer covering are especially great for houses that aspire to be the closest friends of the nature. After all, they help add a natural look to a house due to the fact that stones are raw parts of the nature itself. If you'd love to use stone veneers on your concrete steps, of course, there are many ideas you can try, as we have shown you earlier.
What do you think about the many concrete steps with stone veneer covering we've previously shown you? Do you think that they look incredible? Did you get lots of ideas and inspirations from them? We hope so because they look really charming and we hope you can create something as charming or even more charming at your residence.
The ideas you can try when you combine concrete steps and stone veneers range from simply applying stone veneer covering on concrete steps to throwing something else into the mix. Among the things you can add to your combination of concrete steps and stone veneers is bluestone. Of course, you can also use ledgestone or other products if you want.
In short, there are so many things you can freely try if you want to have concrete steps with stone veneer covering at your house. Also, you can use the combination of the two both in the inner or outer parts of your house. You can add such combination to your winding staircase inside your house. You can also add it to your backyard or even patio.
With that said, we hope you find the best ideas to apply to your concrete steps and find success building your own charming concrete steps with stone veneer covering.