Every white house has the potentials to be the best-looking house. You just need to know what to use to complement the white color.
There are many things you can use to complement white and other colors that go well with the color are amongst them.
Gray is amongst the best colors you can combine with white. It's especially so when your house is white and you want to add shutters in other colors to its exterior.
Gray shutters on a white exterior can create a subtle contrast that looks beautiful.
Additionally, gray shutters can also help create a formal and sophisticated look when combined with a white exterior.
Naturally, the look you'll get from combining gray shutters and a white exterior won't be too formal for everyone's liking.
You don't need to worry too much about using gray shutters on your white exterior.
Another color that goes well with white and would be a nice choice for your shutters is green.
Green, when combined with white, can create a clean and crisp look. The combination of these two colors is almost always positive. In addition, it can also represent things such as growth and environmental awareness. Great, isn't it?
Note that there's a real sense of color harmony that you can get when you combine white and green. Also, green is often associated with the nature so it's a nice color for your shutters if you want them to bring your house closer to the nature.
On the other hand, dark green can be a sign of wealth. Green can really help you create amazing things when you pair it with white.
If you plan on installing shutters on your white exterior, we've got 12 eye-catching shutters you can get inspirations from below. We've also provided some details on the shutters for your convenience.
Happy exploring! Hopefully, you get as many ideas as you want from these eye-catching shutters.
1. Blue Lagoon Shutters Can Turn a White House into a Cool-looking One
Do you want to turn your white exterior into a cool-looking one?
One of the most effective ways to accomplish the task is by installing blue lagoon shutters on it.
Do you need a proof?
Well, just look at this traditional exterior in Los Angeles! Cool, isn't it?
The blue lagoon shutters that complements this exterior is from Timberlane. Just look at how flawlessly they hang on this exterior. They really suit the white walls and together, they create a contrast that's nothing short of cool. Wonderful!
2. A White House with Dark Gray Shutters Looks So Timeless
Different shutters can create different looks when installed on a white exterior.
If a timeless look is what you want to achieve, shutters in darker shades of gray are the best options available for you.
This exterior in Chicago should be enough to make you believe this fact.
This three-story exterior has a gable roof and it has some beautiful things to boast.
If you wonder what color the exterior is, it's Benjamin Moore's Navajo White. It's a shade of white that can effectively creates a timeless look on an exterior.
The whole house itself, including the front yard area, has been beautifully done and the gray shutters have made it look way better. Being 44′ wide and 60′ deep, and that without including the garage, this house is undeniably a big and beautiful house with a timeless appearance. That stunning exterior with dark gray shutters is what this kind of house deserves.
3. Light Gray Shutters Give a White House a Modern Appearance
Light gray is what you should go with if adding a modern look to your exterior is your aim. This farmhouse exterior in San Francisco will make you believe it. It's a part of a house that offers exterior patio spaces that become the embodiment of the word 'intimate'. It's thanks to the seating and the fire pits present in said spaces.
This two-story exterior also benefits from the presence of painted bricks and shutters, which complement each other really well. Mostly white in color, this exterior sure is grateful to the light gray shutters, which give it its modern look. Here are some details on the shutters.
There are hooks at the bottom of each shutter. These hooks are metal 's' tie-backs. They hold the shutters, which are fully operable, in their open positions. These wonderful units are available at Vixen Hill of Pennsylvania.
4. Small Gray Shutters Look Cute on a White House's Exterior
Are you looking for shutters that can make your exterior look cute?
Then smaller ones are your best options.
Just take a look at the small shutters on this exterior! They're parts of a house in Dallas and they don't fail to give the house a cute look it can boast.
The house has both a shingle roof and a hip roof. With a CertainTeed Weathered Wood roof, this house is destined to be one that captivates the eyes.
The roof and the small shutters really play a major part in making the exterior look as cute as it does.
5. A Farmhouse Exterior Will Benefit from the Addition of Dark Green Shutters
What are the best colors to use to complement a farmhouse exterior?
There are many, obviously, and dark green is one of them, as shown by this house in New York. Dark green, being a color that is really close to the nature, suits a farmhouse exterior so well.
The exterior itself is a part of a restored 200-year old house. The house has custom sidelights that the homeowner/ contractor built. These sidelights are amongst the things we really love about the house, because they're special, being ones that were custom-built and all.
Then there's the whole team of of dark green shutters, which really beautify the house's exterior.
You might also need to know about those sophisticated-looking windows. These awing type windows are fully functional and any manufacturers will be willing make them. You won't face too many difficulties if you want to get similar windows for your exterior.
6. Shadowy Shutters are Great Choices for a White House with Green Windows
Does your exterior have green windows on walls dominated by white? Do you plan on installing shutters on it? Then shadowy shutters are amongst your top choices. This house located in Los Angeles can tell you why.
Having a charming Mediterranean exterior, this house has a body that's painted in Dunn Edwards bone. Of course, the color really makes the property charming. The fact that there's a beautiful tree named Jacaradna in the house just makes it a lot better.
The things that really capture your attentions in the house are, obviously, the shadowy shutters. They create a beautiful contrast with the white walls. Also, they get along pretty well with green so it's all the better.
7. Murky Shutters are the Best Match for a White House with Beautiful Green Roofs
If your house has a green roof in addition to having a white exterior wall, it'll surely look n astonishing. The white exterior wall will create a lovely contrast with your roof. Just look at this exterior if you don't believe so.
This exterior has a white wall and a green roof built using products from TAMKO. The products are TAMKO's 3-tab shingle ones and the color is Empire Green Blend. Once you're done combining a white wall and a green roof, what else can you do to make your exterior look pleasant? Well, you can install murky shutters.
Murky shutters complement a white wall and a green roof really well. While you're at it, it'll also be great if you can paint your front door in Charleston Green. The color will match your wall, shutters, and roof perfectly and beautify your exterior to a great degree.
8. An Elegant White House Needs Darker Green Shutters More Than Anything
Do you live at a historic house and you want to improve its looks? Which era is your house from? Is it from the 1920s?
If yes, then it's a colonial house and we bet it looks awesome.
Do you want to make it look a bit more modern?
First of all, you should pay attention to the color of your exterior.
If it's white then it's quite easy to modernize it. You can simply, for example, install shutters on your exterior and paint them in one of the darker shades of green. Forest is a nice dark green shade you can try.
Just look at the picture above if you want to see a possible final result of your exterior revamping.
9. Long and Thin Gray Shutters for a Tropical Porch
Speaking of installing shutters, it'll be better if you could choose some shutters that can add unique looks to your exterior.
What are the best options?
Well, according to this house in Miami, long and thin shutters in gray are some of the best options. That is the case if you have a tropical porch and you want to decorate it.
Long and thin gray shutters, aside from providing function-related benefits, can also decorate your tropical porch.
First of all, they look uniquely interesting. Additionally, if your porch exterior is white in color, they will complement it flawlessly. They'll be super nice additions to your tropical porch, that's for sure!
10. Leaf Green Shutters for an Exterior That Loves the Nature
Is your house surrounded by evergreens?
If yes, then you should consider installing shutters that mimic the colors of the leaves all around your house.
This way, your house will be really close to the nature. It will boast a beauty that's really special because it has a connection to its surroundings.
This Mediterranean exterior in Miami is a proof of that.
The stucco exterior has a tile roof and a hip roof and of course, a number of green shutters. The shutters are really stunning and they perfectly match the colors of the leaves on the trees around the property.
If you want to have similar shutters, you can paint your shutters in emerald. The color is amazing! Try it!
11. Simple but Eye-catching White House Gray Shutters
A house doesn't need to be flashy to look eye-catching and this white house is a proof of that.
Located in Raleigh, this house has a craftsman exterior that's dominated by white.
Well, the exterior of this house isn't exactly white as it's a very light shade of gray. Still, you can use it as a source of inspirations for your white exterior remodel.
The house has a two-story exterior and a clipped gable roof.
The 'white' exterior of this house is matched perfectly by dark gray shutters. The shutters, being rather dark in color, creates a lovely contrast when put on the exterior.
Of course, the gray shutters aren't the only things that help beautify the exterior.
The exterior is also blessed with an addition of roof shingles that help improve its looks.
The shingles are from Atlas Roofing and its color is Weathered Wood. It's a part of the ProLam product line.
A beautiful stone whose beautiful autumn blend color shines is also a beautiful addition to the house's outer part. The brand of the stone is Canyon Stone and the style is Southern Ledge Stone. It's a product that will always be a very nice addition to a house with a white exterior and gray shutters.
12. Benjamin Moore's Azure Water Shutters Complement White Wall and Windows Perfectly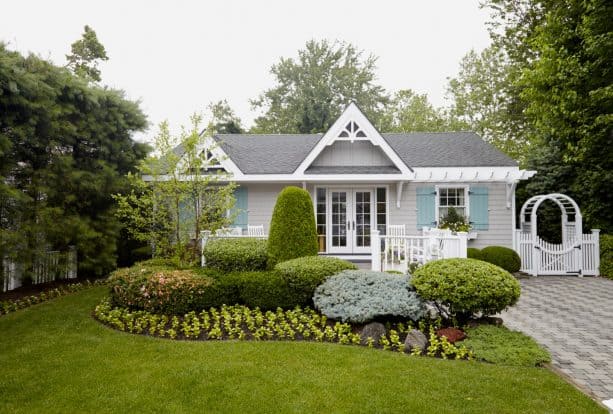 What are the colors that are best suited to become the loveliest compliments to white exteriors?
Benjamin Moore's Azure water is surely one of them! This exterior in New York can be a perfect example of this fact.
Of course, this exterior isn't exactly white. However, as light gray is very close to white, a combination of white and azure water will look pretty much like the one this exterior shows.
This one-story exterior really benefits from the addition of azure water shutters to it. If you want to create similar shutters, you can paint yours in Benjamin Moore's Azure Water.
The shutters, aside from looking great, also suits the beach-style exterior really well because it's one of the perfect colors for beach-style houses.
Please note that if you paint your shutters in azure water, the results may not be the same with the one you see on this picture.
The designers behind these shutters have stated that the real shutters look a bit different than the ones in the photo. Thus, you might need to test the paint first before deciding on getting some for your shutters.
Closing
White is a color that goes well with virtually all other colors. However, when it comes to complementing a white exterior using another color, it doesn't mean that you can be too nonchalant. You have to know which colors suit your white exterior best.
Amongst the many colors that you can combine with your white exterior, gray and green are two of the perfect options. The exteriors we've shown you are proofs of this. Did they give you a lot of ideas to think about? Hopefully so!
Given the fact that there are so many different shades of gray and green, you have many choices to choose from when you're about to install colored shutters. Different shades of gray can give different looks and feels to an exterior. Just make sure that you let yourself be as free as possible when you design your white exterior with colored shutters. Don't set any limitations and you'll be able to create the most beautiful exterior for your house.