Every front porch deserves to be decorated beautifully.
Fortunately, there are many things you can do to beautify your front porch. Also, it doesn't always require you to use decorative items to beautify your front porch. After all, even functional parts of your porch can be turned into things that improve your front porch's looks.
One of the functional parts of your front porch that you can use to make the area look better is the column. How? Let's put it in an easy-to-understand way.
There are ways to make your front porch columns look beautiful. One of them is by replacing them with wrought iron columns. Why?
Wrought iron columns, especially ones with intricate curves or patterns, can incite a strong feeling of luxury. They can boost both your house's value and looks.
Wrought iron itself is actually an iron alloy that has an extremely low carbon content. There's less than 0.08% of carbon in it. Compare it with cast iron, which has 2.1 to 4% of carbon in it, and you'll know the difference immediately.
Aside from being able to improve the looks of your front porch, wrought iron columns are of high quality as well. After all, wrought iron is known as ductile, tough, and malleable. On top of that, it's also easily welded and corrosion-resistant. It's a really nice choice of material for columns.
If you consider adding wrought iron columns to your front porch, we've collected 10 fascinating columns made of wrought iron you can get inspiration from.
Get some inspiration from the columns below as you begin your quest to give your front porch its share of wrought iron columns. Happy exploring and enjoy!
1. Black Wrought Iron Columns are Perfect for a Traditional Concrete Porch
If your front porch is rich with concrete and it's traditional-style, you should consider learning one thing or two from this porch.
Located in Detroit, this front porch has dark, wrought iron columns. These columns are perfect for a concrete porch. Why is that?
When you install dark wrought iron columns on your concrete front porch, they help create a contrast in the area. The contrast between your concrete and the dark columns will create a nice look at your front porch.
Coloring your wrought iron in black is the best thing you can do if you want to add a contrast created by concrete's natural color and dark wrought iron columns.
The best thing about these wrought iron columns is the fact that their stark difference to almost everything else in the area works to their advantages.
The columns are really dark, and against the gray walls and white ceiling, they can't be more different in terms of appearance. However, everything works just fine. Wonderful!
2. Wrought Iron Columns That Become Stately When Lit at Night is a Nice Addition to Any Porches
There are various kinds of wrought iron columns. After all, wrought iron can be shaped into various different forms. They can also be put into many different kinds of treatments, and they'll still be fine. In short, you have lots of options when you're about to add wrought iron columns to your front porch.
One of the things you can do if you plan on adding wrought iron columns to your porch is turning it into something that becomes stately at night.
For instance, you can apply something to it so that it becomes sleek and shiny. This way, it'll look so good when lit by your porch lamps during the night. Try it! It won't hurt!
If you need some inspiration, you can take some examples of the column shown above. The column, which isn't alone at the porch it's a part of, is a hand-crafted column. It's large. It's one of the 700-pound wrought iron columns belonging to the porch. Awesome, isn't it? Yes, it is!
3. Exquisite Wrought Iron Columns Suit the Porch of a Historic House Perfectly
Do you live in a historic house? Does it have a front porch, and you're thinking of installing wrought iron columns on the porch? Well, you must be really careful! Only choose columns that match your historic house perfectly!
What kinds of columns match a historic house?
Well, columns that offer exquisite patterns are amongst the best to have. Columns like the ones in the picture above are amongst the perfect columns to have on a front porch. These are parts of a house in DC Metro. They turn the house into one that looks beautifully classic.
The porch itself is actually quite simple. However, the wrought iron columns singlehandedly make it look beautiful.
The porch has a white wall and a pair of white glass-front doors. It's mostly in white. Not only did the dark columns add a nice contrast of color to the porch, but they also decorate it effortlessly. It's all thanks to the exquisite patterns that they offer. Gorgeous!
4. A Victorian Style Porch Will Benefit a lot from Small Wrought Iron Columns
Victorian-style porches deserve to get the best columns possible. Columns need to be the most good-looking at these porches. In addition, they must be made of the best materials as well. Wrought iron columns match these descriptions so well. These small columns can prove it to you!
The small, dark columns absolutely suit the porch, and they do more than just being matching additions to the porch.
The columns' dark color and the porch's light colors really go well with each other. The contrast they created doesn't feel wrong in the slightest.
The fact that space and the columns themselves are quite traditional in style makes the combination a perfect one. What's more? The columns also help give the area a classy, bold, and unique look at the same time. They're simply cool and awesome!
5. Wrought Iron Columns That Offer Iron Leaves are Cool Additions to a Contemporary Porch
Interested in adding something cool to your porch?
If you are and your porch is contemporary in style, try getting wrought iron columns with detailed iron leaves on them.
Iron leaves aren't simple as they're quite hard to make. Thus, you'll have something special by installing wrought iron columns with detailed patterns that look exactly like those of real-life leaves.
Take a peek at these cute iron leaves, which are on wrought iron columns, are part of a porch in Jackson.
How do they look? Cool and cute at the same time, right? The addition of wrought iron columns similar to these ones to your front porch will do it a world of good.
Having such columns on your front porch will make it look even more beautiful contemporary. It's as if your porch is surrounded by nature itself.
The good thing is these leaves never wilt, so you don't need to routinely water them to keep them alive and beautiful.
6. Light Blue Wrought Iron Columns Create a Beautiful Pop at a Front Porch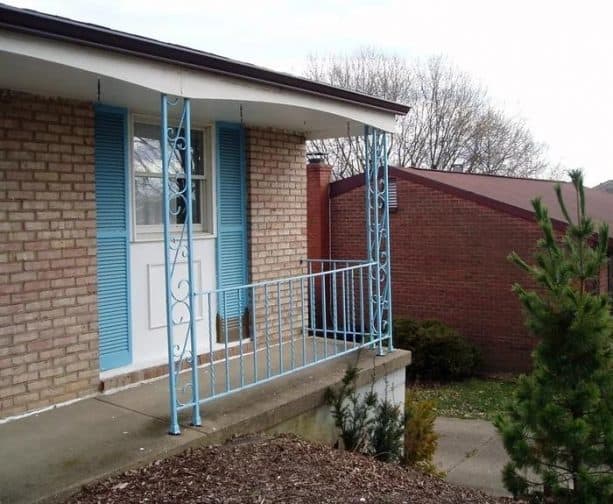 Wrought iron is a pretty flexible material. You can turn it into virtually anything. You can shape it into anything. You can color it in any color. Thus, you can color it in a color that pops if you want. These columns can give you an example if you need any.
These columns are painted in light blue. This makes them extremely visible against the brick walls, the white-colored wall, the white ceiling, and the concrete floor.
However, not everything the porch has to offer is in a color that contrasts that of the columns. There's also that door painted in a shade of blue that's the exact copy of the columns.
Oh, wait! There are two of them! Yes, those doors add a nice touch to the area's overall design.
Fortunately, the fact that these columns and doors are highly visible means that their color pops in a beautiful way. You should try coloring your wright iron columns in a popping color as well. It'll make your porch look really beautiful!
7. Lanky Wrought Iron Columns Add a Pleasant Look to the porch of a Two-story House
Every tall house deserves columns that suit them. For example, if you have a two-story house, you need columns that can represent its tallness.
As for the material, you'll also need one that can easily achieve the purpose of matching the house's tallness. Wrought iron is a material that matches this description very well.
If you consider using wrought iron to build columns for your two-story house's front porch, you can take some examples from the lovely columns in the picture above.
The columns are parts of a two-story house in New Orleans. They look really nice as parts of the house.
These columns become the perfect addition to the house. First of all, their sizes make them look lanky. This way, they represent the tall house very easily.
The fact that their upper parts are connected by intricate patterns makes them look very interesting. It's good that the patterns also suit the house's traditional porch, which has a traditional lamp and two wooden chairs in front of a wall with wooden doors. Simply fantastic!
8. A Classic Porch Should Have Classic-looking Wrought Iron Columns
Porch columns don't always have to look like things that are only there to support the ceiling. In fact, they have every right to look charming without neglecting their duties.
The wrought iron columns in the picture above stress the importance of granting porch columns a right to have good looks. They look great, and they help make the area look better.
Dark in color, these wrought iron columns are quite small in size. They aren't thick and have very artistic designs to boast. The patterns that the columns form are pretty classic. They really suit the porch as it has a traditional and classic design as well.
With a soft-colored wall and a traditional door with matching windows, the porch really needs columns that complement it. Luckily, these wright iron columns are just the best the porch needs.
The fact that the columns are connected to the fence, which also boasts cute classic patterns on them, just makes it a lot better.
9. Mini Wrought Iron Columns for a Tiny Space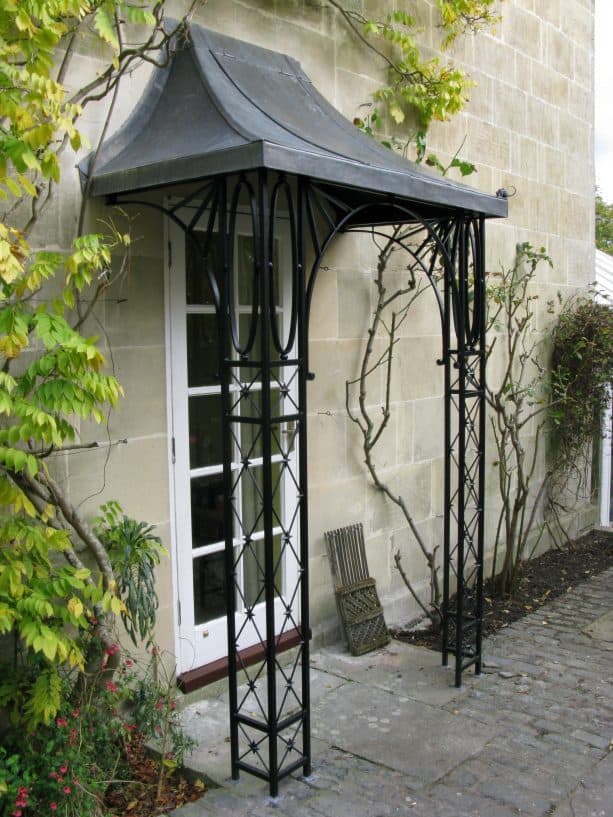 Having a small space to make use of doesn't mean failing to make it look gorgeous. The picture of wrought iron columns above can show you how size doesn't matter. Even at a tiny porch, these wrought iron columns don't fail to look good.
Fortunately, they help everything around them to look good, as well.
What we love the most about these columns is the fact that they only care about making the space look good. It's obvious that these columns are a bit sleeker and more beautiful than their surroundings. The good thing is they help make the things surrounding them look better.
Being dark in color, these columns also create a nice contrast when put together with the other things in the area.
After all, the other things that belong to the space are light in color. The contrast created is a pleasant one, fortunately, as it turns a tiny space into one that looks gorgeous. Mini but nevertheless a beauty!
10. Bold Decorative Wrought Iron Columns for a Clean Porch
If you have a clean porch that is mostly in soft colors, maybe you should think about adding decorative wrought iron columns to space.
However, don't start the project before deciding on adding columns in a bold color to the area. Why bold wrought iron columns will create a beautiful contrast when added to your clean and soft porch.
The porch shown above can show you why adding bold wrought iron columns to a porch dominated by soft colors works.
To make it work, however, one needs to make sure that the columns are decorative in nature. The ones shown above are undeniably decorative.
Standing at 3.5 meters high, the wrought iron columns were clad in the lead.
They look really clean and beautiful, giving the cute porch a cool look to be grateful for. With lots of cool patterns on them, these wrought iron columns are definitely ones you should get some inspiration from.
Closing
Well, now that you've read some very nice things about front porch wrought iron columns, you should've gotten a glimpse of what wrought iron columns can present to a front porch.
Did you get lots of ideas from the porches with wrought iron columns we've presented earlier? Hopefully, you did. There are so many creative things the columns presented earlier can teach you about.
From creative uses of colors to a perceptive way of deciding on columns' sizes, the columns above have a lot to tell you. Also, don't forget the fact that wrought iron columns can offer a lot of benefits to any front porches. Do you need proof? Well, we can tell you numerous things to make you believe.
There undeniably are lots of things wrought iron columns can give to a front porch. First of all, it offers longevity. Compared to wooden columns, these columns can last far longer, obviously. In addition, wrought iron is also an incredibly strong and durable material. Wood or vinyl can never compare to this material.
Another awesome thing about wrought iron columns is their resistance to dents, shock damage, and bending. You'll have your wrought iron columns for a very long time, thanks to their strong nature.
What's more? They can also be turned into fascinating decorative items for your front porch. Wrought iron columns are awesome, and we hope that you get to add them to your own front porch. They'll be great additions to the area!