Ranch-style houses are extremely popular now and we bet you've considered remodeling your house into a ranch style one at least once. Well, it can't be helped, right? After all, ranch style houses are really cool to have.
Naturally, if you want to remodel your house into a ranch style one, you'll need to know what ranch style architecture is about. Well, to put it simply, a ranch style house is usually a single-story house that has an open-concept layout, as well as a devoted patio. That's it? Well, no, actually.
A ranch style house usually features large windows along its front exterior and a long low-pitch roofline. The shape of a ranch house can vary as well. Many are rectangular while some others are built in "L" or "U" shapes. It's worth noting that a ranch style house usually has sliding doors made of glass. These doors usually open directly onto the backyard or patio.
Please also note that a ranch house normally has an attached garage and wide roof eaves as well. Remodeling a house into a ranch style one isn't that sweet, though, since you need to work hard to build its exterior. You can actually do it in an easier way, though. How can you do it? It's simple! Use vinyl siding!
If you consider remodeling your house into a ranch style one and you're open to using vinyl siding, we've compiled 13 creative ideas that can help you use vinyl siding to turn your house into an impressive ranch style house.
Don't worry, as usual, we've included the necessary details on each idea. Just scroll down and you'll find many interesting things you can do with vinyl siding. Happy exploring!
1. A Combination of Shadow Vinyl Siding and Stone is Perfect for a Craftsman Style Ranch House
Despite the fact that there are some specific characteristics of ranch style houses, it's worth noting that more modern ranch style houses can blend themselves with other styles, such as, for example, the craftsman style. If you'd love to create a craftsman style ranch house, you can start with installing shadow vinyl siding on its exterior.
Once you install your shadow siding, what else can you do? Well, you can continue by building a side-entry garage. Such garage can help you maximize space for the craftsman elements of your ranch house. Consider creating white trims as well because they can create crisp contrast to your gray siding.
If you'd love to use shadow vinyl siding on your ranch house, you can get your siding at Georgia Pacific. The designers of this house got the siding there. Here's another idea! Combine your vinyl siding with stone and you'll get something really special beautifying the exterior of your ranch house.
2. Green Sprout Siding for a Down-to-Earth Ranch Style House is One of the Best Ideas Ever!
Trying to remodel a ranch style house into one that looks down-to-earth? Consider using vinyl siding and painting it in green sprout. Get Sherwin Williams' Green Sprout SW7728 because it's among the best, if not even the best, you can get. The siding in the picture above was also painted using this product.
If your house hasn't had any columns yet, you can get some at Fypon. The ones used in the house above are PVC Column Wraps. Of course, if you want to make your house look even better, you can combine the green sprout siding with something else as well.
One of the ideas you can try is combing green sprout with Alside's deep moss on you're your shakes. It will certainly give your ranch style house a really impressive look. Also, it's a very simple idea that you can execute without having to go through too much trouble.
3. Blue Vinyl Siding Looks Great on an Eclectic One-Story Ranch Style House
Blue is really a relaxing color and it goes well with various other colors. That's why, it's a really nice color to use when it comes to creating an eclectic house. This house with an eclectic exterior in New Orleans can prove it for you!
Using this house as an example, you can remodel your ranch style house into an eclectic one by installing vinyl siding on its exterior and painting it in a lighter shade of blue. What other colors can you combine with such vinyl siding? Well, there are at least three, to say the least.
First of all, you can paint some of the parts of your exterior, preferably the doors, in light brown. Then, you can paint the door frames in white. The combination of light blue-light brown-white will give your house a nice eclectic look. You can also throw gray into the mix by installing a concrete floor in front of the vinyl siding.
4. Monterey-Taupe Vinyl Siding Can Help You Build a Sophisticated Ranch Style House
If a simple yet very impressive entry is what you'd love to give to your ranch style house, Monterey-taupe vinyl siding should be your priority. This house in Baltimore can give you some ideas about how to combine Monterey-taupe siding with other parts of your house to make it impressive. Well, the tricks are quite simple, actually!
First, you can build a cocked garage for the house. However, make sure that the garage is only cocked at a very slight angle if you want to make sure that it looks good. Then, you can install a mahogany door and then apply a clear finish on it. Combined with the Monterey-taupe siding, it will provide your house with a cool look to boast.
Here's another idea! You can also give your house a unique look by painting it the way you paint a car. The purpose is to ensure its longevity and giving it a nice and unique look. Try it and you'll have a simple yet impressive ranch style house whose design many would love to imitate.
5. Summer Nights Siding Can Give You One of the Most Creative Ranch Style House Remodel Ideas
To retain your ranch style house's classic look, you can try installing summer nights siding on its exterior. Use this house in Minneapolis as an example as you remodel your house. Benjamin Moore's summer nights is the paint color that we'd recommend to you if you want to imitate the looks of this house.
Another idea to try is using milled cedar shakes together with the summer nights siding. They'll look great together. Don't forget to add some vintage flower pots as well. They'll give your ranch style house some cute classic looks.
Consider painting some parts of your exterior in white as well. The white paint used in this house was Benjamin Moore's White Dove. For the metal roof, you can actually create a custom one to install on your house so you can take a lot of liberty here.
6. Worldly Gray Vinyl Siding Can Re-Invigorate a Ranch Style House to Make It Look Aesthetic
Re-invigorating your ranch style house is something that you can do in various ways. If you want to make it look aesthetic, for example, you can install vinyl siding and paint it in gray. But what shade of gray helps you create an aesthetic look?
Well, one of the best paint colors you can use is Sherwin William's Worldly Gray. The colors will not stand out but will effortlessly give your house an aesthetic look regardless.
If you really consider using worldly gray, it's better if you go all out than not. Paint all parts of your exterior in this shade of gray. It'll give your ranch style house a look that other ranch style houses will find hard to beat.
7. Installing Gray Vinyl Siding is Amongst the Better Ideas to Create a Timeless Ranch Style House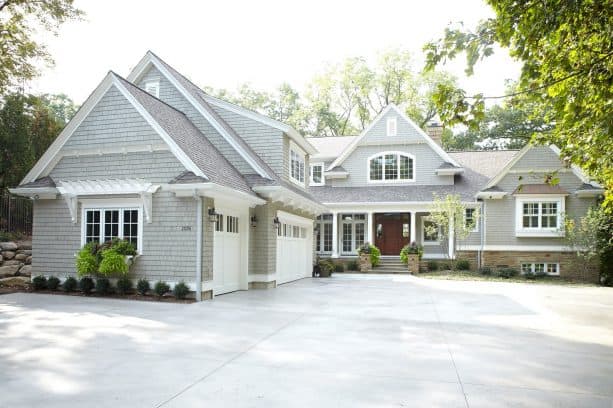 Gray is undeniably a very versatile color. It can be used to create various different looks and this house in Grand Rapids can tell you that the color can be used to create a timeless look as well. With a shingle roof, this house definitely looks timeless.
To imitate this house's look, you can install vinyl siding on your ranch style house's exterior and simply paint it in gray. It's better if you blend colors to create your own custom gray shade for your siding. Then, build a garage and give it doors that look great alongside the siding.
You can get a pair of garage doors at Wayne Dalton Carriage Doors if you want doors that can complement your gray siding. The looks offered by the doors will only benefit you. Try getting a few of them!
8. Interested to Build a Simple Yet Stunning Ranch Style House? Try Graphite Vinyl Siding!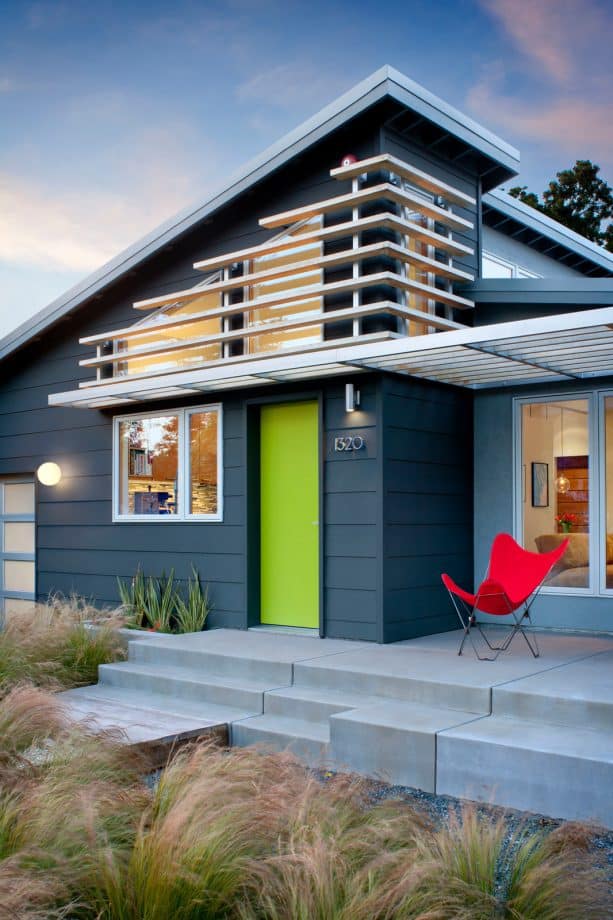 Is building a simple yet stunning ranch style house your aim? If so, then you'd benefit from using graphite vinyl siding. This stunning house located in San Francisco will make you believe. This house's siding was painted in Benjamin Moore's graphite and it looks stunning.
While we're at it, you can also imitate the design of this house's eaves and fascia. They're painted in Gunmetal. Together with the graphite siding, they sure become the highlights of this house.
If you're interested in imitating this house's design, you might wonder where you can get the globe lights on the garage. The owners of the house bought the lights through Lumens.com. You can also get address numbers similar to the ones used at this house. These numbers are Neutra House Numbers in Aluminum. You can get them at Design Within Reach. You can find it online quite easily!
9. One of the Best Ideas to Beautify a Ranch Style House is Giving It Wet Pavement Vinyl Siding
Beautify your ranch style house using wet pavement vinyl siding if you want to exponentially improve its looks. This house located in Minneapolis is a proof that wet pavement looks awesome on a traditional house. The color really gives the house's exterior a beautiful timeless look.
Naturally, the gable roof this house has, which is wooden, also helps create its timeless look. Also, if you pay close attention, this house also has a lovely outdoor light. You can get one for your ranch style house as well.
Go to We Got Lites to get a light similar to the one used at this house. Also, if you want to paint your house's vinyl siding in wet pavement, you can use Valspar's Wet Pavement (5006-2A). It'll give your house the beautifully timeless look this house has.
10. Semi-Transparent Stain Can Make Your Ranch Style House's Vinyl Siding Look Astonishing
How can you make your ranch style house extremely astonishing? Well, there are many ways to achieve the task but giving its exterior a translucent look is definitely one of the most effective of them. Just look at this astonishing house if you don't believe it.
The designers of this house had their simple yet effective way to give this house's exterior its translucent look. Guess what? They simply finished the thing with a semi-transparent stain. And it worked! If you want to achieve the same look, you can install vinyl siding on your house's exterior. Then get a semi-transparent stain on it.
11. Giving Your Ranch Style House Cream Vinyl Siding is Amongst the Most Impressive Ideas as Well!
Do you like yellow? If you do, you can consider painting your vinyl siding in one of this color's shades to make it look impressive. Look at this house in Lake Forest for some inspirations!
This house's exterior is painted in cream. Just look at how astonishing it is! The cream color used at this house was woodland cream. It's not merely a color because it's actually James Hardie's ColorPlus® Technology finish.
Using woodland cream, you won't only be able to make your ranch style house look impressive. Well, your house won't simply be impressive because it will have a beautiful classic look as well. It's because a classic look is what you can easily achieve using woodland cream.
Are pops of colors amongst your favorites? Then you should consider giving your ranch style house a nice pop of color. This house in DC Metro can give you one or two tips to apply. This house has a nice shingle roof but it's not the highlight of the property.
The things that's really appealing about this house is probably the color combination it sports. It has Westcott navy siding, which looks awesome, and a door that complements it. The two creates a perfect color combination for the house.
The door really pops, as it's painted in poppy. Poppy and Westcott navy create a contrast that really steals the show at this house. You can easily achieve a similar look by using the two colors when you remodel your ranch style house.
13. Installing Vinyl Siding That Creates an Extreme Contrast is One of the Most Brilliant Ideas, Too!
An extreme contrast is something that never fails to make a house stand out. If you like such contrast, this house in New York can give you some inspirations. Just look at how flashy the house is!
If you'd love to have a ranch style house with such lovely contrast, you can, first of all, install vinyl siding on your exterior. Then paint the siding in a bright yellow. Make sure that the shade of yellow you choose is one that really pops.
The next step to take is installing a roof in a dark color. You can try a very dark shade of blue if you want the color contrast to be highly visible. A bright yellow down there and a dark gray up there will surely give your ranch style house a brilliantly appealing appearance.
Closing
Upon reading about the various ideas above, you might have decided on some designs that you'd love to apply as you remodel your ranch style house by now. However, there are a number of things you need to note before you start remodeling your ranch house. Here are some useful tips for you.
First, you don't need to trudge up your stairs. Stay true to the soul of ranch style house and, if possible, don't build a second floor. The lack of stairs can free up more living space on your property's first floor.
Second, you have to make sure that you create an open and inviting floor plan. Such plan will allow your house to capture natural light in any of its rooms. You'll only benefit from it!
Third, create a low-pitched roofline because it makes it easier for you to maintain the house's exterior. It'll also be easier for you to repair it. Well, with that said, we guess it's time for you to start remodeling your ranch style house. Make sure you turn it into one that looks as impressive as you want it to be!