Can you imagine a bathroom that combines blue and gray? Does it look good in your imagination? Well, if it does, you should be proud with your visualization skills. After all, blue and gray bathrooms do look stunning in real life.
Blue and gray look great together and it's a good thing that both colors are perfect for bathrooms. First of all, blue is a color that gives you feelings of serenity or calmness. It is also a color that is considered peaceful and secure, making it perfect to be used in a bathroom.
Similar to blue, gray is also a perfect color for a bathroom because it's a color that gives you a feeling of self-restraint. Additionally, it's also a color that's considered to be able to alleviate you from the riotous world.
Gray, however, is more flexible than blue since it's a neutral color, a color that is believed to represent neutrality, as well as balance. It's also a color that suits adults because it's considered a color of maturity as well.
In short, blue and gray can help you create an appealing bathroom. If you'd love to have an appealing blue and gray bathroom at your residence, we've listed 12 appealing bathrooms you can draw some really nice bathroom remodel ideas from. We've also included some details on each bathroom so you will find out what to do to imitate the design as you remodel your bathroom. Enjoy!
1. Bracing Blue and Gray for a Tight yet Appealing Modern Bathroom
Having a tight space doesn't mean you have to give in to limitations and admit defeat. You can still create an appealing bathroom despite having a tight space. If you want to remodel your tight bathroom into an appealing modern bathroom, for instance, you can use this bathroom in Seattle as an example.
This bedroom achieves its appealing look by combining bracing blue, gray, and a bit of tawny. In this room, Sherwin Williams' Bracing Blue is present on the wall and ceiling. Please note that there's also glimpses of blue under the mirror and in the middle of an area dominated by gray tiles. These glimpses of blue are created by blue accent tiles from United Tile, which is located in Renton, Washington.
The gray tiles on one of the walls and the floor are porcelain tiles called the Supergres Nouveau. They're from United Tile as well. If you are also interested in the light in the shower, it's a light by Kenroy.
Other items worth mentioning are the sconces, which are designed for both horizontal and vertical applications. Please note that the sconces are also rated for wet locations so they're perfect for bathrooms. The sconces, as well as the peg knob, are from Rejuvenation. Thanks to them, this modern bathroom definitely looks a lot more appealing.
2. Gray and a Mix of Cobalt and Cerulean Suit a Bright Bathroom Perfectly
Remodeling a bright room using blue and gray as the centerpieces is something fun to do because it allows you to play with some really creative concepts. This bathroom in Miami can give you some ideas if you plan on remodeling your bright bathroom. This bathroom loves blue and gray and one of its most interesting parts is the speckled wall.
This bathroom's speckled wall is the Bianco Carrara Marble Pebbles in Aquamarine Resin, which came from Artistic Tile's Riverstone Collection. If you're interested in the tiles used in this bathroom, you can also try getting Riverside Tile, which is also used in the room.
What we find amazing from this bathroom is the fact that it also uses some degree of illusion to achieve its look. If you think that the light blue color in the shower is its original color, you'd be mistaken. The tile in the shower is in actuality a white mate. It appears blue because of the shower's tinted door.
We also love the bath rug, which has a mix of cobalt and cerulean on it. It's from Abyss Habidecor and it looks stunning in the room. This rug and the seemingly blue shower walls are undeniably the highlights of this bright contemporary bathroom.
3. Turquoise Sea for the Upper Part and Gray for the Lower Part of the Room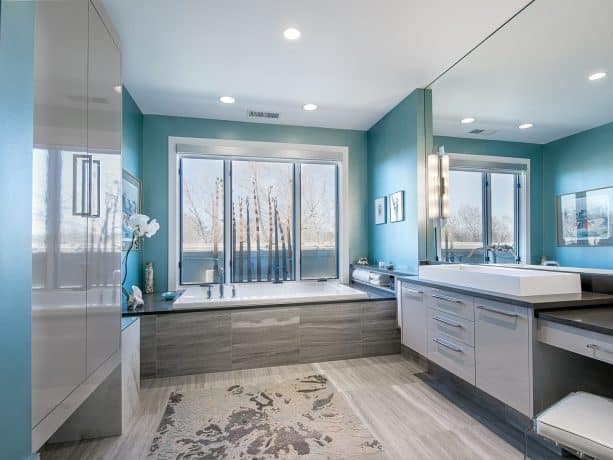 Dividing your bathroom into an upper part and a lower part is another idea you can try if you think of using blue and gray in the room. The two colors will create a contrast that looks lovely, as evidenced by this bathroom in Denver. This bathroom's upper part is painted in turquoise sea, a really beautiful shade of blue, and it's in a metallic finish.
The lower part of the bathroom is virtually all gray, and we love it! You can easily see neat flat-panel cabinets in gray there, which look great in the room. The outer part of the bathtub is also gray and it's matched by the gray floor.
We also admire this bathroom's designers for their commitment to make the lower part of the space as gray as possible. There's almost nothing but gray there as you can see that even the lovely rug on the floor is also in gray. Overall, it's a really beautiful bathroom to get some very nice bathroom remodel ideas from.
4. Even Reclaimed Items Can Make a Beautiful Blue and Gray Bathroom
One of the most fun things about remodeling a bathroom is the fact that you can take as much liberty as you want during the process. There aren't any limitations, even when you don't have enough budget to buy new items or if you want to play around with reclaimed stuffs. This bathroom in New York can tell you why!
This bathroom has blue walls and a gray and white sink, as well as a floor that can be categorized as both silver and gray. If you wonder what the paint color used in this bathroom is, it's Minwax MWB 37, which is actually stained poplar. If you are curious about the wood used for the walls, it's Plytanium Plywood Siding Panel T1-11.
As for the floor tile, it's silver travertine, which was purchased at Casale Tile in Ocean, NJ.. For your information, the cool gray and white sink is a reclaimed item from the Tastycake factory in Philadelphia. The lights are also reclaimed items and you can find similar ones at barnlights.com. These things look great in the bathroom, proving that you can still create something appealing using reclaimed items.
5. A Blue Ceiling and a Bossy Gray Floor Make a Stunning Contemporary Bathroom
Trying to remodel your bathroom into a stunning contemporary bathing chamber? Try contrasting the color of the ceiling and the floor! For example, you can build a blue ceiling and contrast it with a gray floor. Look at the picture above to see what it would look like if you create a blue ceiling and a gray floor in your bathroom.
This bathroom looks so stunning with all the colors combined in it. The most prominent ones, of course, are the blue and dark gray used on the ceiling and floor, respectively. However, you can't ignore the beautiful light brown wall just right next to the white bathtub.
Of course, you can't ignore the light gray wall on another side of the bathroom as well. The tiles used on this wall look like Sonoma Tilemakers' bossy gray walls. Try getting them to create something similar in your bathroom. It'll turn your bathroom into one that looks just as stunning as this one!
6. Stripes of Sky and Shadow Can Help Any Designers Create a Unique-looking Bathroom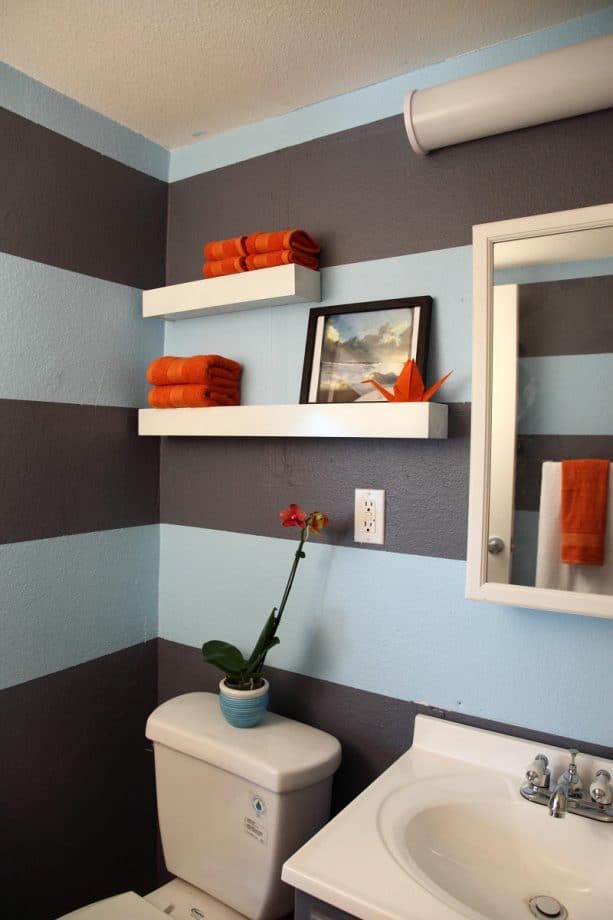 If a unique bathroom is what you'd love to build, this bathroom can tell you one or two tricks. Located in Los Angeles, this bathroom has an integrated sink and a pair of nice-looking white wall-shelves. Please note that it has a wall cabinet with a glass door that matches the shelves as well.
The one thing that we think is really captivating in this bathroom, however, is the combination of two contrasting colors to create cool stripes in a large size. Just look at them! These stripes are really cool and it somehow tells you that it'll be great to spend time in the bathroom.
Do you want to create something similar? Well, you can simply section your bathroom walls and painting some sections in sky blue and some others in dark gray. The color used in this bathroom is actually Ralph Lauren's Old Violin. However, you can easily replace it with dark gray and it'll look pretty much the same. Try it!
7. Blue Tiles Can Create a Nice Pop in the Middle of a Gray Area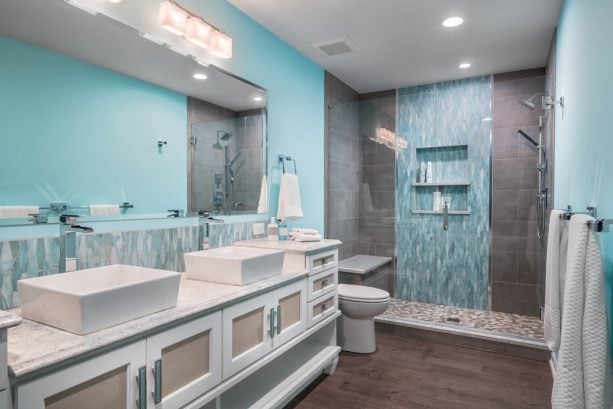 Wanting to create a spacious master bathroom that looks lovely? Try drawing some ideas from this transitional bathroom in Columbus. This bathroom has an oversized shower, which even has a bench in it. The one thing that is really awesome about the shower is, of course, the way blue and gray are used in it.
The oversized shower has dark gray walls but in the middle of one of the gray walls, there's an area that's all blue. The blue part was built using Vihara Icika Silk Ehex from Sonoma Tile. It adds a nice pop in the middle of the shower's gray area.
Outside the shower, there are also blue walls that match the blue tiles used inside. Other things the bathroom has include a gray floor, a one-piece toilet, quartz countertops, a vessel sink, and recessed-panel cabinets. Naturally, all of them look awesome in a room that's largely blue and gray.
8. Languid Blue Walls and a Gray Countertop Make a Cheerfully Bright Kids' Bathroom
Remodeling a kids' bathroom requires you to capture a childish soul and insert it into the room. One of the ways to achieve the purpose is making the room look as cheerful as possible. To do that, you can, for example, paint the walls in languid blue. This bathroom in Minneapolis has done it before and you can get a glimpse of the final results of your remodel by looking at this space.
In this kids' bathroom, the walls are painted in Sherwin Williams' languid blue. Looks nice, isn't it? Of course, it's worth mentioning that the gray countertop helps the languid blue walls make the bathroom look so awesome. The white recessed-panel cabinets play a role in the whole scheme as well.
If you pay close attention to the floor, you'll also see some really nice details that help beautify the bathroom there. It's the tile. The tile used on the floor is a basket weave tile in black and white and it's from The Tile Shop. The languid blue walls and all the other things in this bathroom make the room look cheerfully beautiful.
9. Iridescent Blue, Yosemite, and Cemento Look Awesome Together
When it comes to remodeling a small master bathroom into a cool-looking one, it's important to pay attention to the colors used in the room. If you choose to combine blue and gray, for instance, you can choose a lighter shade of blue and combine it with not-too-dark shades of gray. This master bathroom in Denver can give you a perfect example of such combination.
This master bathroom uses lots of gray tiles called Yosemite, which are purchased at the Arizona Tile Waterfall Series. Another shade of gray, cemento, is present on the countertop, which is a Silestone countertop. The wall is painted in light blue, obviously, but what makes this bathroom interesting is probably the tiles that make the room's accent strip.
The accent strip is actually made of an iridescent blue tile from MSI. For your information, it is in actuality a crystallized glass tile and it looks incredibly stunning in this master bathroom. Purchasing similar tiles for your bathroom should only benefit you.
10. Blue Cabinets and a Gray Floor for a Sleek Mid-sized Master Bathroom
If a mid-sized master bathroom is what you're currently trying to remodel, it is best that you consider using light blue cabinets and combining it with a gray floor. This bathroom in Toronto can give you some tips about how to combine the two colors. Just look at how sleek this bathroom looks to believe that it can do just that!
This bathroom has a marble floor and light blue cabinets that really capture anyone's attention. Despite the fact that the owners of this bathroom asked the designer not to share specific design details, we can tell you that this bathroom's vanity color looks a lot like sapphire. It looks so modern and gives the bathroom a pleasant personality.
Some details that we like include the flower patterns on the blue walls. They singlehandedly give the bathroom a lovely appearance. Well, anyway, if you want to create a bathroom similar to this one, we can assure you that it's not that hard to adapt this design to your bathroom to make it look as sleek.
11. Blue and Gray are Perfect for a Beach Style Bathroom
Considering remodeling your family bathroom? Why don't you turn it into an appealing beach style one? It's easy to do that! Just look at this family bathroom for some inspirations! This bathroom has a dark floor and some very nice details in blue and gray to offer to the eyes of its beholders.
What you can find in this bathroom are furniture-like cabinets. You won't be able to avert your eyes from that blue cabinet! The color really pops in this bathroom and it, fortunately, is a good thing for the room. The same popping shade of blue is used on the wall behind the cabinet as well.
It's worth noting that the outer part of the bathtub is also stunningly blue. However, in the bathtub area, the bathtub's blue shine isn't the only thing that steals the show. After all, they gray tile used on the wall just next to the bathtub really looks together alongside the popping blue on it. Simply astonishing!
12. A Blue Wall and Gray Cabinets are Perfect for a Glamour Transitional Bathroom
Blue and gray are also the colors that you can use if a glamour bathroom is what you want to create. Just look at this bathroom in Chicago if you don't believe it! For starters, this bathroom has a nice-looking floating vanity in gray, which complements the room's chrome mirrors.
This bathroom also has gray cabinets that with quartz countertops. If you're a fan of flat-panel cabinets, you'll know that such cabinets suit a glamour bathroom as proven by this glamorous space. Of course, you can't ignore the room's blue wall as well. It's highly visible and it looks appealing in this bathroom.
The next awesome thing about this bathroom is how you can't find any forms of dead space in it. The designers really did a great job making use of the dead space by, for example, using a storage bench in the room. It goes without saying that the crystal chandelier helps give the bathroom its glamorous look as well.
Closing
Now that you've seen the blue and gray bathrooms in our list, you should know that blue and gray can make some very appealing bathrooms? Do you agree? Did the bathrooms we've listed provide you with lots of bathroom remodeling inspirations?
If blue and gray are the two colors that you'd love to incorporate into your bathroom, you can be sure that the two are perfect for bathrooms. They'll help beautify your bathroom on top of being the two colors that can help you relax. The fact that you can play with them as you remodel your bathroom is a plus as well.
As you remodel your bathroom, you can play with various blue and gray color combinations to create various kinds of bathroom. After all, the two colors suit the traditional, transitional, and modern styles. They're also perfect for kids' bathrooms and even bathrooms that use the word luxury to define themselves. Well, in short, there are so many things you can do with these two colors. So, what are you waiting for? Start creating your own appealing blue and gray bathroom using the bathrooms above as sources of ideas and inspirations.